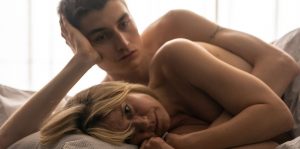 Anne is sexy and flirtatious throughout and carries herself with intense sexual confidence. Seducing Gustav introduces him to sex with a self-assured woman who knows her mind and body, and he quickly becomes obsessed with her. The fallout from their relationship has horrifying consequences for everyone in the family as she attempts to find a way to restore her life after they are caught by her sister when Gustav kisses her at a family gathering.
Director May El-Toukhy paints an engaging, uncompromising film in bold strokes, never looking away or shrinking from Anne's boldness to act on her desires, or her willingness to remorselessly do whatever she must to restore the status quo of her life. Lady Macbeth was an amateur by comparison.
Queen of Hearts (2019) Directed by May El-Toukhy. Written by Maren Louise Käehne, May el-Toukhy. Starring Trine Dyrholm, Magnus Krepper, Gustav Lindh. Queen of Hearts screened at the 2019 Sundance Film Festival.
8 out of 10