SUNDANCE FILM FESTIVAL 2023 REVIEW! Reviewing the life of Brooke Shields will be a major trip down memory lane for those who grew up in the 1980s and 90s. A beautiful girl, Shields was always in the spotlight, appearing on every magazine cover, and made the Calvin Klein jeans tag a must-have on everyone's a*s. But she was not without controversy. However, what makes Pretty Baby: Brooke Shields a worthwhile watch are the decisions that director Lana Wilson makes as the actress shares her life story with us.
As Brooke Shields dives into her life and all its beautiful and ugly details, she maintains a strong sense of self, dignity, and identity. This is especially true about the decisions made for her at a very young age. Many interviews, archival footage, photos, images, and film clips have been sewn together to create a story in which Shields is the narrator. Also included are interviews with long-time friends, including accomplished actor Laura Linney and appearances by Drew Barrymore and Judd Nelson.
The filmmaker establishes early on that Shields' mom, Teri, was in charge, especially as a single mother who had to provide for and use the system to make a better life for her and her daughter. However, the sexualization of Shields at age 12, in films such as Louis Malle's Pretty Baby, which many describe as child pornography, didn't alter the young child's life as one would expect. Instead, it is here where Pretty Baby: Brooke Shields constructs a narrative supported by the subject's appearances on talk shows and interviews that offer underlying credibility to her life as an actress and the ability to separate real life from acting. Shields even calls out Michael Jackson for lying about a relationship with her.
"…the life of Brooke Shields…"
As Shields came of age in the public eye, she continued to make films that would not be made today, including Blue Lagoon and Endless Love. Yet, Shields maintains her position as an actress and her decisions even if her mother is behind them. However, her mom's alcoholism begins to wear on her life. Quiet time did arrive for her once she attended Princeton University. After graduating, she struggled to get her career back. Finally, she found her groove in television comedy, specifically Suddenly, Susan, and consistent appearances in movies and television.
But the most defining moment of this very long two-part documentary (which could be a series) is Shields sharing a sexual assault by a Hollywood director who is never named. This man had a bucket list that included sex with her. Yet, from years of maintaining a sense of self, Shields compartmentalized this incident and moved on. Pretty Baby: Brooke Shields shows us how she moved forward from a not-so-great marriage to tennis star Andre Agassi to reigniting her acting career.
Throughout Pretty Baby: Brooke Shields, director Lana Wilson allows Brooke Shields to be herself and tell her life. The filmmaker makes a solid and well-told documentary; in the end, you feel like you made a friend. As public as Brooke Shields' entire life was for everyone to judge and/or worship, she maintained her sense of self and knowledge about the world, leading to a string of successes. Unfortunately, her life was, and still is, full of misogyny, judgment, and the harsh reality of public opinion and superficiality. Yet, Shields continues to work hard even with the gift of being beautiful. Now we see how beautiful she is from the inside.
Pretty Baby: Brooke Shields screened at the 2023 Sundance Film Festival.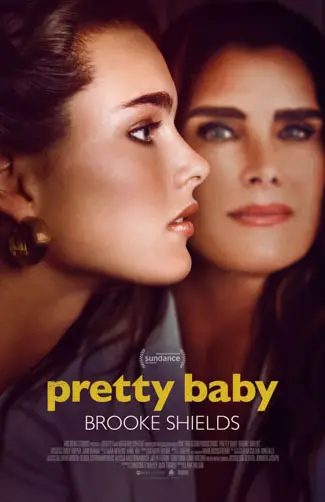 "…solid and well-told..."