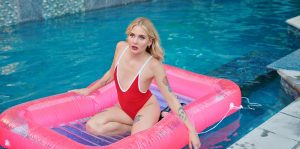 NEW TO THEATERS! I had to sit with Ninja Thyberg's debut Pleasure for a while before I could write about it. First of all, it just cuts through you with its stark portrayal of the adult film industry. We see an industry that employs mostly women but also spends a lot of time exploiting them. Of course, this isn't true for all people who work in the industry. It also shows the positives of working in porn.
It's not surprising that Pleasure was written and directed by Europeans because of its unflinching, non-judgmental approach to sexuality. Americans have such a Puritanical view of sex and all things related to it that are deeply ingrained that no matter what, we have a subconscious shame about sex and sex work. Maybe this is why it's so easy to get exploited in the industry… because people are afraid to talk about the bad things that happen. They're already judged for working in that industry, so they don't want to speak out about things like sexual assault because they're afraid they won't be taken seriously.
"…Bella…is a 19-year-old woman from Sweden who comes to Los Angeles specifically to work in porn…"
Whoah. That went somewhere heavy pretty quickly. A lot of Pleasure is weighty material, but we also see the friendships that Bella Cherry (Sofia Kappel) develops with her co-workers/roommates at their house. Bella's real name is Linnea, but we only find that out in passing. She is a 19-year-old woman from Sweden who comes to Los Angeles specifically to work in porn, or as she tells the customs officer at the airport, "For pleasure." She lives with four or more other girls who also work for the same agent, Mike (Jason Toler). Bella gets very close to a rowdy girl from Florida named Joy (Revika Anne Reustle). They have each other's backs in a world that gets crazier and crazier for them.
It is very interesting that Pleasure shows all kinds of different porn sets, from low-budget to high concept, feminist to definitely not. It allows us to empathize with the sex workers in these types of jobs. I guess I could tell you that Pleasure is unrated, but if it ever does get a rating, it will absolutely be NC-17. If you have a problem seeing private parts, this is unquestionably not for you. I really appreciate the bold narrative that Thyberg and co-writer Peter Modestij crafted. It is sex-positive, it takes no prisoners, and it grabs your attention from word one to the final frame. It definitely has some jarring scenes, and there is an undercurrent of sadness, especially in the third act, that leaves you feeling crushed by the end.
It's devastating, but I like movies like that. Films that leave you thinking about them for hours after. Pleasure is also a movie that might change your worldview if you can handle a few boobs and butts here and there. Okay, more like a hundred, but you get the point. It's sensational just because it's about porn, but there is a human story in there. Bella could be any 19-year-old woman in the world. The people who work in porn are just that, people, and this shows the human side of them. I think that's incredibly important, and I think Ninja Thyberg's brilliant first feature is incredibly important for that reason. I am excited to see where she goes next.
Pleasure premiered at the 2021 Sundance Film Festival and the 2021 AFI Fest.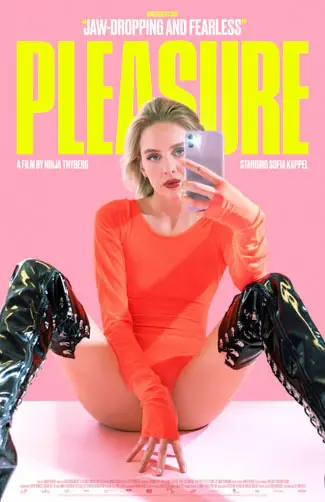 "…if it ever does get a rating, it will absolutely be NC-17."