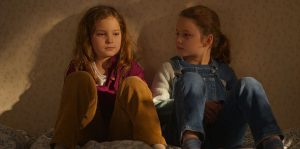 AFI FEST 2021 REVIEW! Petite Maman is acclaimed filmmaker Celine Sciamma's coming-of-age tale exploring childhood grief and family connections. Nelly (Joséphine Sanz) just learned that her maternal grandmother died. The 8-year-old processes what this means to her as her mother (Nina Meurisse) makes arrangements and packs the family home. The house, located in remote woods, seems like it has not been touched in decades. Her mother is having a hard time dealing with the situation and has disappeared. Now, Nelly is left to fend for herself while staying strong for her distraught father (Stéphane Varupenne).
The girl spends her days in the forest building a treehouse where she meets the neighbors' kid, Marion (Gabrielle Sanz), who is roughly her age. She looks as lonely as her, so they instantly become close friends, and Nelly is invited for playdates. It is hard to tell Marion and Nelly apart as they look eerily similar. Moreover, their houses appear to be identical in every way.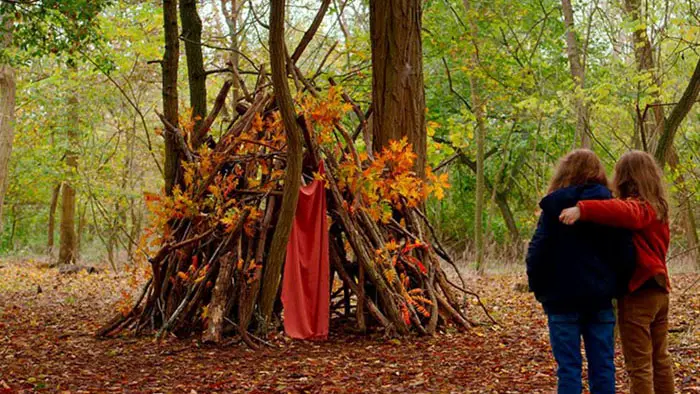 "…Nelly is left to fend for herself while staying strong for her distraught father."
Then like in a Shyamalan film, it all starts to make sense as Marion is also the name of Nelly's mom. Clever people might have kept in mind the title – meaning: little mother – and deduced this "twist" from the get-go! But then and there, things become even more enchanting as viewers fall down the spellbinding rabbit hole that is Petite Maman.
It takes a bit of detective work for the young protagonists to understand their parents' state of mind as both households are going through emotional and consequential changes. The girls have to cope by themselves, playing pretend to the point where it becomes second nature. Nelly and Marion have to deal with their sadness and fear and are forced to mature due to situations that could be traumatic for children, such as the death of a loved one. Especially when they are kids obsessed with their parents' past and present lives, always asking questions about when they were little.
Sciamma excels in gently delivering a vivid and affecting coming-of-age account about youngsters searching for themselves. He pushes things further with some fantastical details and concepts and transforms the production beyond its genuinely original family drama story. The movie reveals itself to be about a child with a wild imagination that makes the story feel like an alternate universe where imaginary friends are very much real. Here memories, dreams, and reality blend ever so smoothly: dreams become realities that in turn become memories… but what came first in the labyrinthic psyche of a precocious child?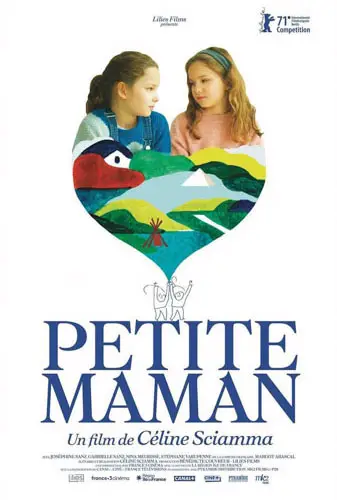 "…clouded with a mysterious and mesmerizing aura..."