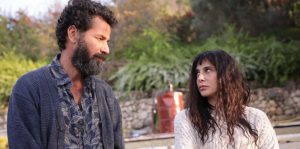 AFI FEST 2021 REVIEW! Costa Brava, Lebanon, written and directed by Mounia Akl and set in post-Beirut-port-blast Lebanon, is about the Badri family. They left the madness of their lives in the city eight years prior to live in blissful isolation in their cozy family mansion in remote green hills. The ex-activist couple Soraya (Nadine Labaki) and Walid (Saleh Bakri) are at the center of this drama. They live a somewhat bohemian life, happily raising their two daughters, rebellious teenager Tala (Nadia Charbel) and her fiercely curious younger sister Rim (Ceana Restom). Soraya and Walid are also taking care of his aging, sick mother. The household is cut off from the world and self-sufficient, living mainly off the land, but they still get news that things are not going well in the capital amid uprisings due to poor government management.
One night, Rim sees something strange happening near their property, but it is dismissed as the child's wild imagination playing a trick. But, not long after, men are surveying the land, and the family is being informed that the president has chosen this peaceful place right next to their house to build a "green" landfill. But Walid, who has been nothing but a chill dude and loving father until now, starts to be unsettled and less optimistic about everything. He knows better than to trust officials' promises, particularly when they pretend to do something nice for the environment.
The entire family has doubts and is worried but can only wait and see what the government will do. Lo and behold, the next day, a statue of the president brought from a destroyed Beirut port is erected in front of their pool. Talk about lousy neighbors and politicians with big egos and delusions of grandeur… they truly are everywhere! This is shortly followed by all kinds of trucks arriving on-site, bringing workers and equipment, ruining their beautiful views. But it is not just their sights that will suffer, as everybody's ears and sanity will suffer as workers dig, drive, yell, and dynamite the place all day and night. From there, it only gets worse and more intense.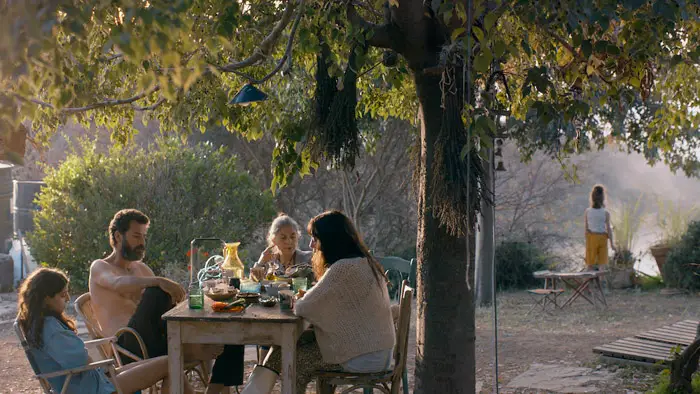 "…trucks arriving on-site, bringing workers and equipment, ruining their beautiful views."
 Costa Brava, Lebanon is a pretty compact film that grounds the Badris and their surreal circumstances in realism. In fact, despite the story seeming a little too far-fetched, it is not utterly unbelievable considering how sadly surreal some situations are, especially in this day and age of corruption. There is no lack of evidence from anywhere in the world of how conniving many politicians and businesses have been when it comes to ecological crises. Akl perfectly illustrates the concept of "greenwashing" at its worse, meaning nothing is done, problems and "disaster-in-the-making" are just moved out of the way.
Thus, the film will make you think and relate to this family who lost their little paradise. The Badri family represents all of us, surrounded by pollution and plastic in the air and water. On the other hand, it is not hard to put oneself in their shoes as Labaki and Bakri bring sincerity to their roles and have great chemistry with their onscreen kids. They create believable comical moments or lovely and moving ones about people dealing with an impossible and increasingly life-threatening situation.
 Costa Brava, Lebanon acts as an environmental flick without making self-righteously grand statements. Instead, the director views things in a microcosm. Of course, all these projects about such important topics are needed, but Akl's title feels like a breath of fresh air. While the narrative features magical realism, it lacks levity, which will probably make it less appealing to a select few. Nonetheless, this is something uniquely special and a perfect, alluring example of all that is wrong with the world we're living in.
Costa Brava, Lebanon screened at the 2021 Toronto International Film Festival and the 2021 AFI Film Festival.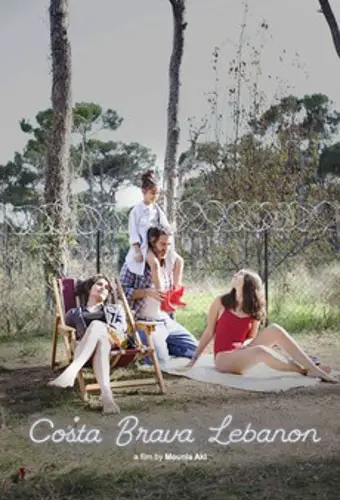 "…a perfect, alluring example of all that is wrong with the world we're living in."