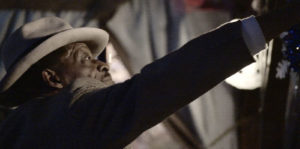 CINEQUEST FILM FESTIVAL 2022 REVIEW! The New York City Cabaret Law was enacted in 1926, during the Harlem Renaissance, and it's bizarre. It states that unless a business selling food or drink has purchased a cabaret license, they were prohibited from allowing dancing in their establishment. In 2017, the night before the law's repeal, seemingly unrelated individuals will face changes like never before. Paris is in Harlem, written and directed by Christina Kallas, tells the story of these strangers as they traverse the ever-changing streets of New York and prepare for something great.
The drama opens to text expressing the racist undertones of the Cabaret Law. From that first second, it is clear that racism and sexism will play a prominent role in the remainder of the narrative. Kallas has clear views on these topics, and I commend her for keeping the proceedings balanced, rather than immediately showing her hand, for a good portion of the film anyway. Being informative is an essential part of cinema, but there is a fine line between informing and convincing.
Paris is in Harlem follows many (many!) characters who go in and out of the Harlem-based Paris Blues Club. Ike (Chris Veteri) is the bartender, Ben (Vandit Bhatt) is a young man having a bad day, while others like Sam (Leon Addison Brown) and Michelle (Ellie Foumbi) are looking to let off some steam that night. Real-life musicians Camille Thurman and Kojo Roney appear to add authenticity to the story. After Ike hears a gunshot, the plot rewinds, tracking the numerous characters (only a fraction of whom I've mentioned) and how they intersect on this fateful day.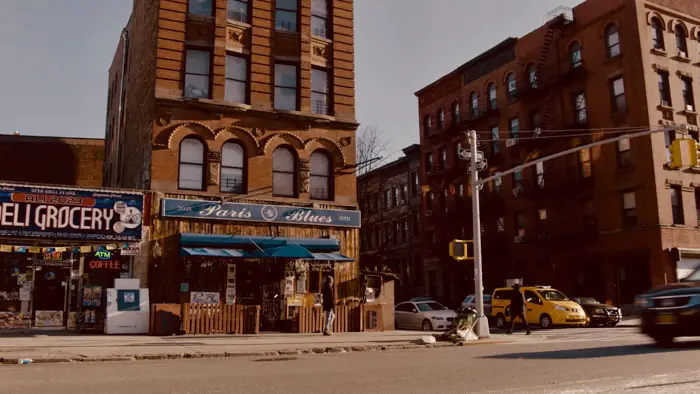 "…follows many characters who go in and out of the Harlem-based Paris Blues Club."
Each of the characters' lives is relatable, and the diversity on display ensures that viewers will be able to identify with at least one person. The scenarios the actors depict require a certain amount of talent and passion to feel truly honest. Kojo Roney and Tim Eliot, in particular, stand out. Both actors, particularly the young Roney, are able to convey emotion and relatability that allow audiences to feel more connected to the overall story.
To further ensure a connection between the movie and viewers, Kallas uses split-screen for about a third of the runtime. This technique brilliantly simulates the hustle and bustle of New York City, allowing for viewers to further relate and connect to the people and events on screen. This works as well as it does because, in the end, Paris is in Harlem is a testament to humanity. The filmmaker discusses how screwed up the world can be but better exemplifies how wonderful a good heart and a caring person can be and the changes they can make just by lending a hand.
But the drama has some questionable content that may cause viewers to ponder the intention of the cast and crew. Kallas seems to enjoy playing with the idea of antagonizing her viewers. She's well-versed in how pop culture and politics play a role in everyday life, as her screenplay reflects that fact, and she uses that knowledge to guide the story from beginning to end. However, there are moments (more and more as the film progressed) when I question how much I cared about the characters or their plight. To be honest, I felt attacked by the narrative as an American and a human being at certain points, as it seems to ostracize some people based on sex and race.
There's no doubt Kallas can appeal to a wide audience. Especially due to her creative use of split-screen, which makes Paris is in Harlem a visual masterpiece. But, she seems skewed to only want to reach specific audience members and not everyone as a whole.
Paris is in Harlem screened at the 2022 Slamdance Film Festival and the 2022 Cinequest Film Festival.