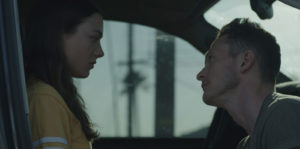 SFFILM FESTIVAL 2022 REVIEW! Palm Trees and Power Lines is a powerful and intimate film about a dark and unnerving subject revolving around one's need for attachment and attention. 17-year-old Lea (Lily McInerny) finds fulfillment in thirty-four-year-old Tom (Jonathan Tucker). Director and writer Jamie Dack based her debut feature on her 2018 short film of the same name and continues its narrative on a much larger canvas.
Dack's ability to harness the viewer's attention through simple but powerful storytelling on the very grave, creepy, and uncomfortable subject of sexual behavior, misconduct, and exploitation between a minor and an adult is extremely impressive. Making the disturbing palpable, Palm Trees and Power Lines establishes how teenage vulnerability and adult survival collide. Juxtaposing Lea's mother (Gretchen Mol), who is a bit self-serving and unlucky in love and, perhaps, at life, against a bored teenager on summer break, Lea's existence appears mundane in an uninteresting and hot summer.
Set in a middle-class California suburb, Lea catches the attention of Tom after pulling a dine and ditch maneuver with her friends. It doesn't take long for Lea to focus on Tom, who slowly and slyly connects her to a world she is unaware of but ultimately succumbs to and is unable to disconnect. For him, she is an obsession, which the teenager accepts full throttle. Her detached mother and friends seemingly don't see or understand what Lea is doing, but their existence is as bland as it gets.
"After simple, non-imposing, harmless dates, Lea and Tom enter a passionate sexual relationship."
After simple, non-imposing, harmless dates, Lea and Tom enter a passionate sexual relationship. Lea lies about her whereabouts to her friends and mother. A friend sees her and Tom at the beach, which leads to school rumors about her old man boyfriend, of which Lea has no interest even though Tom's life does not add up. He lives in a motel, his phone rings for his so-called construction jobs that don't exist, and there's a sketchy altercation with a woman and man at his motel, in which he appears to be a key player.
Tom gives Lea a bracelet, which brings her closer to him, and they embark on a getaway. When Lea escapes, she tries to reenter her old life, but it's not quite the same. Does she fall back into old traps and long for Tom? Or did Lea come out of this experience slightly scarred, but stronger and more resolute?
Palm Trees and Power Lines rests on Lily McInerny's breakout performance. Her acting is all the more impressive, considering the concentrated and veteran experience of Jonathan Tucker and her few but powerful moments with Gretchen Mol.
The drama is not preaching or pointing fingers at its subjects. Instead, it uses cinema's expressive and powerful art to explain how the world allows for such behavior and how difficult it is to quell it. Dack's work as a director is on the screen, in the characters, and widely successful with how the actors convey her vision. Her writing and directing of Palm Trees and Power Lines will make a difference because it's organic, original, and essential.
Palm Trees and Power Lines screened at the 2022 Sundance Film Festival and the 2022 SFFilm Festival.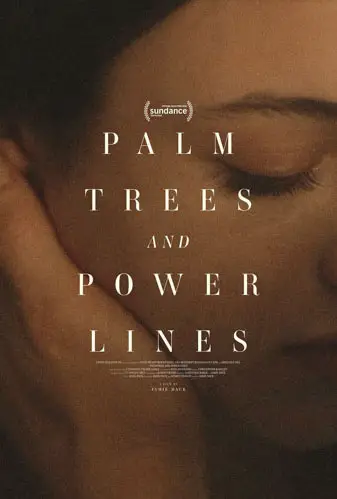 "…a powerful and intimate film about a dark and unnerving subject..."