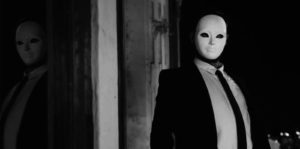 Writer-director Lewis William Robinson's feature-length debut, Orchid Moon, is a dramatic ode to what it takes to come out of a downward grief spiral. Harry (Jake Waring) drinks himself into oblivion every night, unable to deal with the loss of his significant other, Clementine (Nicole Evans). At night, he dreams of her, and in the day, he wants the pain to stop. The bartender at the local pub, Geoff (Grahame Edwards), is an understanding man, but Harry goes too far one night and gets thrown out.
At rock bottom, Harry must choose between facing what happened and forgiving himself and forever dwelling in his misery. The former means trying to move on from his beloved, while the latter has consequences for everyone in his life. Will meeting Anna (Alice Fforde) help Harry or make him further fall, reminding him of what he lost?
Orchid Moon is lushly shot in black and white by Matt Kerins. The cinematography makes everything, from Harry's flat to the bar he frequents, appear sullen, mimicking the lead's emotional state. Tom Althorpe's score helps immensely, full of moody, introspective compositions that set the tone for Harry's feelings. The melding of these two elements perfectly invokes the intended feelings in the most beautiful way possible.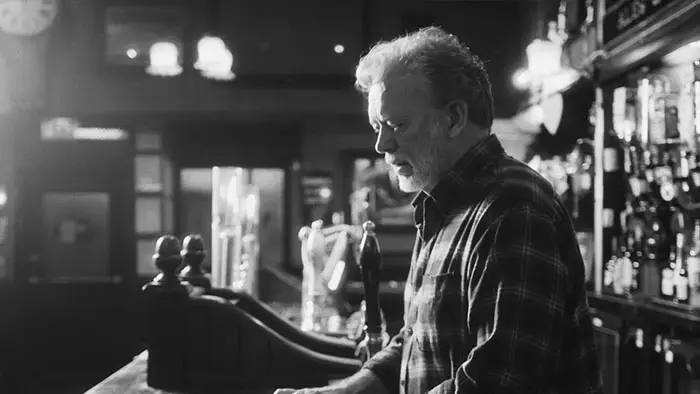 "…drinks himself into oblivion every night, unable to deal with the loss of his significant other…"
There is a small bump in the plot, however. Frazer Hines plays Eddie, who is… Clementine's father? Perhaps? This is very unclear, and while only having one major scene, it does cause confusion. But the rest of the narrative, especially how it plays with reality versus dreams versus expectations of a situation, is brilliantly handled.
Throughout Orchid Moon, Waring gives a superb performance. Every heartache, each moment of despair, is keenly emoted and felt by the actor. Due to the nature of the story, there's not a single scene without Harry, and Waring proves more than capable of carrying the feature. It certainly helps that outstanding supporting players surround him. While his character is confusing, Hines is great. Edwards is excellent as the bartender who wants what's best for Harry. When Geoff forgives Harry for calling him some not-so-nice things, it is authentic and sweet. Evans has the difficult task of being a haunting figment, a mysterious being only represented through a single perspective. She's elegant and makes it easy to understand why the main character's heart is so broken. Fforde is energetic and delightful, making her one scene full of life.
Orchid Moon is an evocative, moody look at loss, grief, and if it's possible to come out the other side. The cast is terrific, especially Jake Waring as the protagonist. The music and cinematography meld together to seamlessly put audiences into the main character's headspace. While dealing with heavy subjects, Robinson injects life into the sad tale, knowing the two must co-exist.
For more information about Orchid Moon, visit Lewis William Robinson's official site.