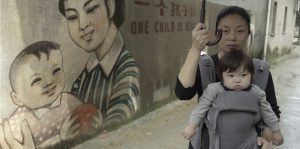 Wang's own mother, when questioned about their own family history with it confessed that her family abandoned newborn girls on the side of the roads. Who later died a few days from cold and disease. When asked, how could they do such a horrible thing, her mother didn't seem to be as remorseful as her uncle and grandfather were. I was extremely confused by her mother's constant smile while talking about such inhuman acts. But maybe I just read her wrong… I hope.
We see a local artist who, while filming at a trash heap, found bags and bags of dead female babies. This was extremely hard to watch, and I had to turn away from it a few times just because it was too much to handle. He later cleaned up the dead infants and put them in a jar on exhibit to show China's shame.
"Risking their lives to inform the world of the unspeakable acts China is very much guilty of…"
We also hear from ex-baby traffickers who, though it sounds terrible what they did, were actually saving babies left on the side of roads to sell to orphanages. Again, it's pretty awful, but at least they were giving the babies a chance to live.
This is a documentary that is very difficult to stomach. Especially if you have children. These barbaric acts were done to only female babies, while boys were considered "little emperors!" Even though the law has changed in China from "one child" to two, it doesn't make up for over 50,000 female babies dying for a policy.
With that said, I applaud Wang and Zhang's bravery for making this movie. Risking their lives to inform the world of the unspeakable acts China is very much guilty of. And for putting together a very strong and well-shot documentary. This movie is what Sundance is all about!
Please go watch this film!
One Child Nation (2019) Directed and Produced by Nanfu Wang and Jialing Zhang. One Child Nation screened at the 2019 Sundance Film Festival, 2019 Tribeca Film Festival and the 2019 San Francisco International Film Festival.
10 OUT OF 10