Gambling and Casinos have been around for a long time, and they have formed an important part of our culture. And as you would expect, the world of high stakes has been widely explored over the years through movies, music, books, and more.
Today, gambling has evolved, and you can get in the action through online casinos such as Golden Nugget online. However, watching a good casino-themed movie always provides some fantastic gambling thrill when you just want to relax. Selecting only five films is challenging as there are many gambling gems, but here are some that are worth your time.
Casino Royale (2006)
Director: Martin Campbell
Casino Royale is a remake of Ian Fleming's same-titled 1973 film. The movie stars Daniel Craig as James Bond, and we follow him as he takes on another villainous figure, Le Chiffre, a mob banker. Being a Bond movie, you can expect high-adrenaline criminal sequences, violence, and dirty mind tricks.
However, the highlight of the movie is a showdown at the Monte Carlo casino in the ultimate all-or-nothing poker game. He's not alone though. Bond has the help of his boss M (Judi Dench), and fellow agent Vesper Lynd (Eva Green). The film is action-packed and one of the top gambling movies of all time. 
Casino

(

1995)
Director: Martin Scorsese
This is one of the most famous gambling movies, and it is based on the Nicholas Pileggi non-fiction book about the 1970s and 80's Las Vegas. It is directed by the legendary Martin Scorcese and Robert De Niro stars as Sam "Ace" Rothstein, an ex-gangster who is now a manager for a great casino in Vegas.
His quiet life is suddenly interrupted when Nick Santoro (Joe Pesci), an old friend and underboss mafia, asks for help. Together with Ginger (played by the beautiful Sharon Stone), they create a superb cheating system. However, this is put in danger by Nicky's recklessness, volatility, violence, and greed. Now, the FBI, mafia bosses, and corrupt government officials will stop at nothing to take down their operation.
Croupier (1998)
Director: Mike Hodges
Croupier takes a different perspective on the Hollywood gambling world we are used to. The film tells the story of a cold and rough gambling world through the life of the dealer. Jack Manfred (Clive Owen) is a struggling writer, and he joins the gambling world to make ends meet.
He starts getting writing inspiration from his experiences in the shady casino lifestyle, but soon he finds himself taking part in a planned casino heist. The film stays away from the lavish luxury of Vegas casinos, and it an excellent movie to give you the other side of the story.
21 (2008)
Director: Robert Luketic
21 is a modern classic based on a remarkable true story. The movie is set before the era of online gambling, and its story starts with a simple but interesting idea – counting cards. The story starts with Ben Campbell, a brilliant student at MIT who is struggling with tuition fees. He is recruited by professor Rosa (Kevin Spacey) and joins a group of other students who plan to fleece Vegas casinos on weekends.
Gambling however becomes more than just paying tuition fees. A casino security guy named Cole Williams (Laurence Fishburne) is also on their case, and what follows is fast-paced trickery, hedonism, and betrayal. If you are a fan of blackjack, this one is for you.
Rounders (1998)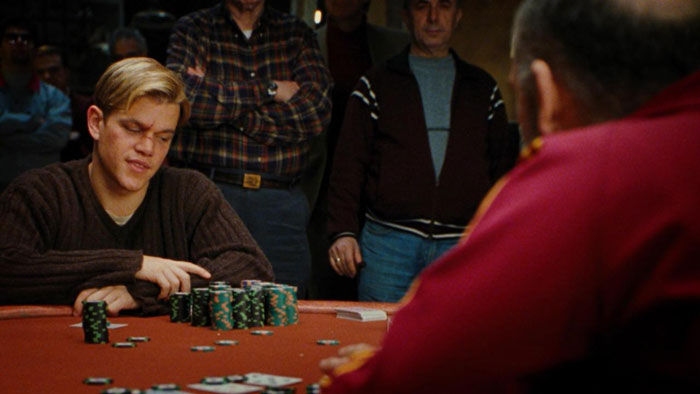 Director: John Dahl
Rounders stars Matt Damon as Mike McDermmot, a regular student who realizes that he has a hidden talent for Poker. He however quits gambling and goes back to college after losing all his money while playing against a Russian gangster.
Too bad for him, this doesn't last long as once his best friend Lester is released from prison, Mike finds out that Lester has a huge debt to a loan shark. He soon finds himself engulfed in the casino world once again. The movie culminates in a dazzling high stakes game, and it's a realistic example of being careful and avoiding compulsive gambling.