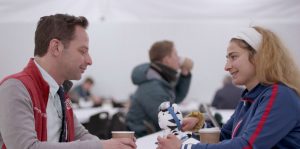 The story of Penelope and Ezra is pretty straightforward but sweet enough. It is the fun and energy of the Olympic Village that Teicher captures so well that. It's a place that we, civilians, know very little about, and it's not only the village. Filming took place across several fantastic locations like the Olympic ski slopes at night and the bottom of the Luge course. It's cliched to say that the Olympic Villiage becomes a character in and of itself, but it's true. We're there in all its glory, even though a love story occasionally upstages it.
So, why is Nick Kroll in this movie? Olympic Dreams is shot like a Christopher Guest movie. I'm assuming most, if not all, of the dialogue is improvised. You can tell by the effort to make every line feel real…like how normal people talk. And discussions often are about mundane things, particularly the meals served at the village. So back to Nick Kroll. His role as the village dentist allows him to riff and do improvised bits with his patients. These patients are, of course, actual Olympic athletes competing that year and willing to sit in a dentist chair.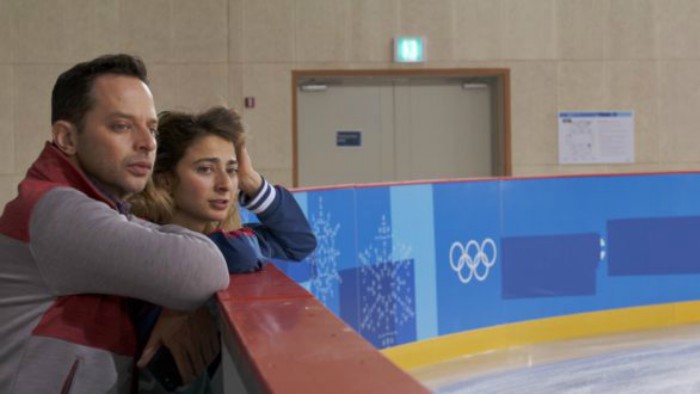 "…the interactions are sweet and authentic."
If you're thinking what I'm thinking, the idea sounds like, "Hey, let's bring wacky Nick Kroll in and yuck it up with the athletes. It'll be wacky, wacky, wacky!" You're partially right. I'm sure Kroll is the right guy to pull the funny from non-actors, which he is. But thankfully, he never goes for the wacky and never attempts to do schtick. Instead, he has real conversations with the athletes asking them where they're from and what their competing in and then finds light-hearted moments with them and their teeth. Since this is a light rom-com, the interactions are sweet and authentic.
Sweet and authentic is pretty much the tone of the entire film. One can sense the gratitude and honor given to them by being allowed to shoot in such a prestigious location. Alexi Pappas is wonderful as Penelope. She not only has a right understanding of her character but more than holds her own with Kroll. Nick, on the other hand, is wonderfully restrained, serving his character's arc and the overall story. Olympic Dreams offers a little love in a fantastic location.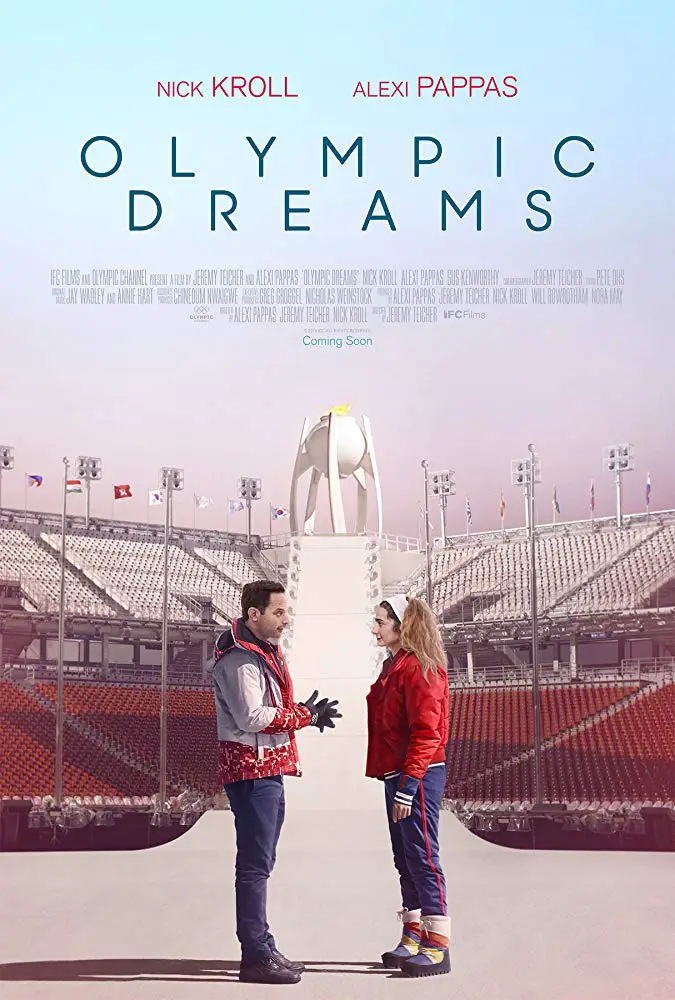 "…shot like a Christopher Guest movie."