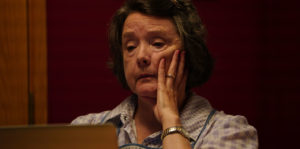 The world's governments chose an extreme way to react to the COVID-19 pandemic, lockdowns. During lockdown, the elderly members of families had to adopt new methods of connection and communication. One of the principal methods settled upon by humanity was Zoom. To that end, everything from family/friend gatherings to work meetings are now conducted over Zoom. Such actions are now split between Twitch, Zoom, e-mails, messaging apps, and the real physical space, which brings us to the new hybrid project, Night, Mother.
Night, Mother is a Pulitzer-winning play written by Marsha Norman. In 1986, it became a film starring Sissy Spacek and Anne Bancroft. Now it's been adapted for the pandemic by John Patrick Lowrie. Mama (Ellen McClain) and her daughter, Jessie (Sheila Houlahan), are engaged in a Zoom call. This Zoom call is particularly monumental for Jessie as she treats it as her last rites before committing suicide.
One of the indelible features of 2020, when everyone was stuck at home, was the prevalence of mental illness. Being confined to inner spaces, one is left by themselves. This was not so bad for those of us who live in family units or with roommates. But, for singletons, it proved deadly. Such is the case with Jessie. Her husband, Cecil, recently walked out on her while their son, Ricky, is a nascent criminal. Jessie herself is plagued with epileptic seizures. All this comes to light through this tormented final Zoom call.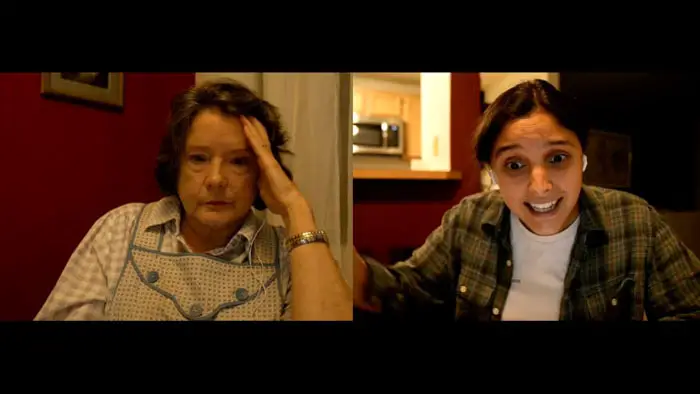 "This Zoom call is particularly monumental for Jessie as she treats it as her last rites before committing suicide."
Night, Mother was filmed on 16mm color and looks great. Zoom lends itself well to the two-person performance of the source material. Interspersed within the conversation are prerecorded pieces of footage. Small moments of Jessie in her previous life. This is a hard conversation to witness. Like the play, it almost feels like we, the spectators, are trespassing on a volatile and private moment between mother and daughter. The emotions on display are beautifully internalized between these two people who really don't understand how to communicate their respective pain.
McClain and Houlahan give wonderful performances. The bafflement and conflict on display are riveting. As they sit there on the Zoom call and plan out the night, debating Jessie's decision all the while, I was struck by the naturalistic portrayal of both women. There is a verbal shorthand on display, a form of language only a parent and child develop between each other.
If you are looking for a small, intimate family drama, then Night, Mother is one to consider. Suppose you enjoy the medium of Twitch, where the content is being curated, and the host presents color commentary on the events being discussed. In that case, I expect this hybrid film between Zoom and 16mm footage will prove most interesting, even unnerving at times. Suicide is a very hard subject for most people to confront, as is the pandemic we find ourselves trying to wrap up, as it were. That Lowrie frames the play as a Pandemic Zoom call is truly a genius move, as it allows for a focus on the conversation and real-world events at the same time.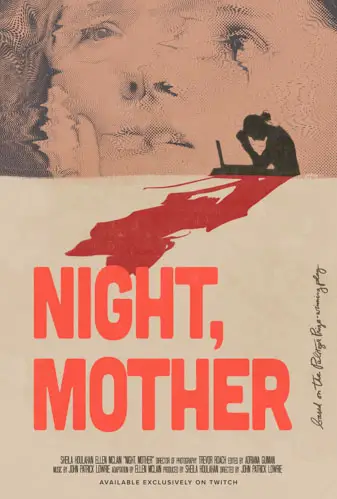 "…most interesting, even unnerving..."