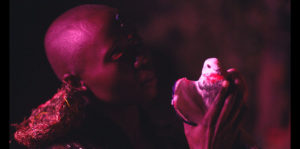 NOW IN THEATERS! Prepare for your head to eat itself as you watch the cult masterpiece Neptune Frost by directors Saul Williams and Anisia Uzeyman. Written by beloved poet Williams, the movie's set in near future Rwanda, where Matalusa (Bertrand Ninteretse "Kaya Free") is mourning his brother Tekno (Robert Nintertse), who was slain in the coltan mine. He has visions in his dreams of otherworldly creatures that glow and sing to him. So Matalusa flees the mines to the hills where a colony of tech rebels, like Memory (Eliane Umuhire), reside. These people live in a village made of discarded circuits and wires.
Meanwhile, runaway Neptune (Elvis Ngabo) pulls out a dress and high heels on a ferry ride to freedom, shedding his gender like a snake sheds its skin. The now female Neptune (Cheryl Isheja) joins forces with Matalusa, who has recruited his coltan miner buddies to the rebel's cause. Together they set off to hack the world in order to remove themselves as an expendable resource of global trade. Motherboards will burn. The weather forecast calls for strange showers with frequent bolts of the bizarre.
Right from the first breathtaking close-up shot of Isheja in outlandish finery, Neptune Frost puts the weird petal to the mental metal and never lets up. Its renegade stance is fueled by a potent mixture of joy and fury. Williams writes some absolutely incredible speeches filled with phrases like "binary crime theory" and "fourth-dimensional libations granted." His script is like shaking a Magic 8-ball that answers with beat poetry. There is a point where the film reads your mind by directly asking if you're asking yourself WTF is going on? The proceedings have that perfect narrative balance of a simple fairytale, leading to baffling visions and fantastic ideas.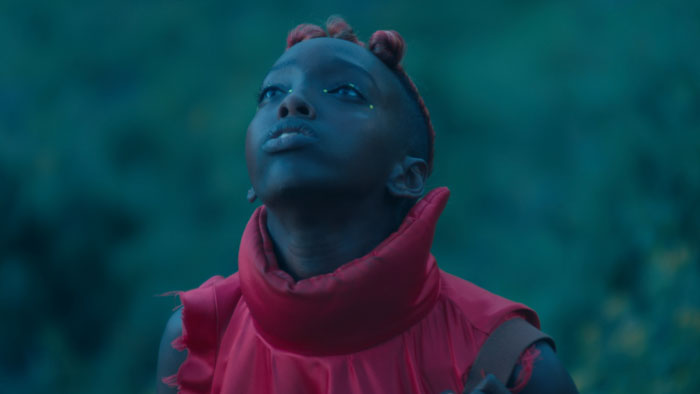 "…they set off to hack the world in order to remove themselves as an expendable resource…"
Williams' concept is a spectacular mash-up of William Gibson's Count Zero and The Lion King. The last time I remember a science fiction musical being attempted was Ulli Lommel's disasterpiece Strangers in Paradise. That poorly received 1980s production is rightfully forgotten due to the much better Jarmusch title with the same name. Williams makes it work here with his wonderful song sequences and spot-on compositions. Even if you are not a musical fan, which I am not, you will surrender to the beat here. It is that good.
During a particular number, there is a lyric referencing "Rocky Horror cinema." Neptune Frost is The Rocky Horror Picture Show of the future. Like its spiritual ancestor, it has great songs, phenomenal costumes, and fluid sexuality. All of this is presented in brilliant colors and angles by Uzeyman's visionary cinematography. The black light techniques alone will inspire repeat enhanced viewings by cannabis enthusiasts, who are at the backbone of any successful cult movie's audience.
The costumes designed by Cedric Mizero are the most amazing creations I have ever seen in a science fiction film. They make Gaultier's outfits for The Fifth Element look like a clothesline of shiny potato sacks. Even Mizero's police uniforms are remarkable, with the fuchsia jumpsuits and masks of pink wire.
This Afro-futurist tale will resonate with all of the alienated viewers out there who are welcome to settle on this strange new world. Like Neptune says, "My truth is encrypted, and yours is easy to read. So what do you need to know about me so that I may continue to exist?" It may be surprising to some that the new ultimate cult experience comes out of Africa, but that's part of what makes Neptune Frost so stunning and unusual. Like my wife often says, "When your paradigm is on fire, you have to learn to eat flame." Well, it just so happens that this flame is delicious.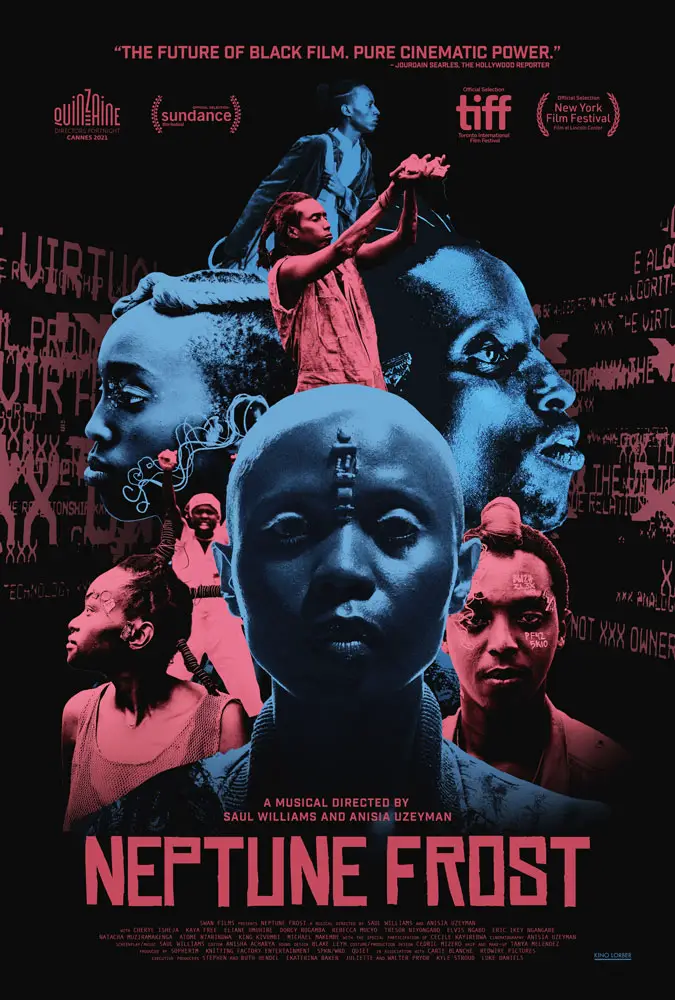 "…great songs, phenomenal costumes, and fluid sexuality."