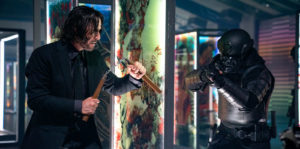 John Wick is back in Chad Stahelski's John Wick: Chapter 4, and it's a spectacular, unforgettable, bloody work of art. I saw this film in a room full of critics, and I've never heard this normally quiet group scream and groan in this uptight theater setting. You must see it in a packed theater if you can. I can't tell you how much I love this movie.
From the very beginning, all John Wick (Keanu Reeves) wanted was his freedom. But, over three films, this impossible request has eluded him. So to gain his freedom, John is on a mission to murder each member of The High Table. His actions, though, have put his friends in danger, including Winston (Ian McShane), who is removed from his position as the manager of The Continental as the hotel is demolished.
"…to gain his freedom, John is on a mission to murder each member of The High Table."
Led by the newest member of The High Table, Marquis (Bill Skarsgård), and The High Table adjudicator Harbinger (Clancy Brown), anyone caught associating or harboring John will lose their standing in the assassin's guild and most likely lose their life. After several of his friends wind up dead for his transgressions, John is determined to find a way to secure his freedom once and for all. But will this be the final chapter, or will the gunman find himself on the endless path to oblivion? There's so much more to this story that I wish I could tell you, but you need to see this movie if you're a fan.
I'll start by saying John Wick: Chapter 4 is almost as good as John Wick: Chapter 1. The body count is higher here though the saga's heart will always remain in that initial entry. Chapter 1 is about avenging the life of the dog his wife gave him (thus memorializing her memory). Chapter 4 is about honoring the friendships and respect he's amassed along the way. The number of allies John gained is high, and now they are targets of The High Table's assassin squads. This not only included Winston and Charon (Lance Reddick) but the Japanese Continental manager Shimazu (Hiroyuki Sanada) and his concierge/daughter Akira (Rina Sawayama).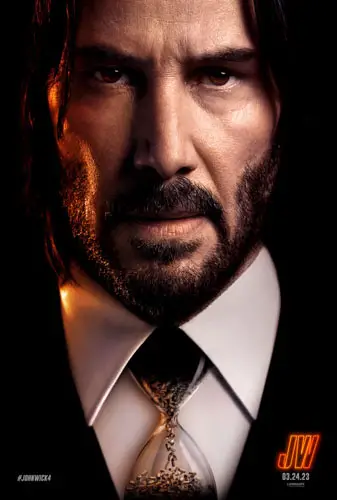 "…the return to the greatness we associate with the franchise..."