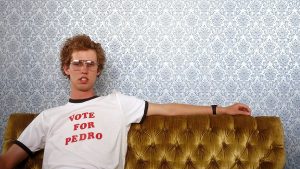 So, this is very much like a sequel to me. I was first introduced to some of these characters in a short film called "Peluca" that screened at Slamdance '03. I fell in love with the quirky humor of filmmakers Jared and Jerusha Hess, I just wished the effort had been feature length. Welp, I got my wish and this film is every bit as funny as I knew it would be. I'm a smart one. I know my A-B-C's.
Napoleon Dynamite is an uber-geek high school student – thick glasses, red, messy fro, walks kinda like he has a stick up his a*s, looks like his mama dresses him – who spends his time drawing flatulent unicorns, scouring the local thrift store for s**t like bad dance instruction tapes, jamming his pockets full with tater tots and engaging in plenty of other odd activites. As we observe Napoleon's daily eccentricities, we meet his grandmother who goes off to race a quad runner in the desert only to end up putting herself in the hospital, his brother, Kip, who spends most of his time chatting with women online, their bozo door-to-door salesman uncle who plots to build a time machine so he can revisit his football glory days, and Pedro, a new student who Napoleon makes friends with and convinces to run for school president.
The cast playing these eccentric characters is magnificent. Each actor perfectly compliments the Hess's original brand of humor that keep steady giggles bubbling from the audience, inspiring frequent bursts of uproarious laughter. This is definitely one of the most unique comedies you'll see all year. No doubt about it.