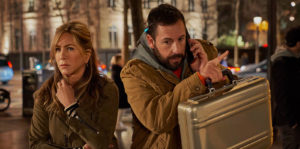 NOW ON NETFLIX! The road of excess leads to the palace of popcorn butter in director Jeremy Garelick's sumptuous sequel Murder Mystery 2. The screenplay by series originator James Vanderbilt eschews the obvious mystery on a train angle (the first ends on the Orient Express). Wisely, we jump ahead to Nick (Adam Sandler) and Audrey (Jennifer Aniston) working as a private detective team. Unfortunately, this venture is going miserably, with little income coming in, creating tension between the married couple. Then Vikram (Adeel Akhtar), their old buddy from the original movie, invites them to his wedding to Claudette (Melanie Laurent) on a private island.
Soon Nick and Audrey are overseas and up to their necks in rich people. Good thing another old buddy, Colonel Ulenga (John Kani), is there to help them navigate the waves of high society. Wedding guests include famous former soccer player and CEO Francisco (Enrique Arce), who has his sights set on Audrey, Nick be damned. We also have Vikram's sister Saira (Kuhoo Verma), Countess Sekou (Jodie Turner-Smith), and Imani (Zurin Villanueva), who slinks around, disapproving of everything in sight.
Meanwhile, Nick discovers the most amazing appetizers and proceeds to consume entire plates full, including a ravishing cheese. However, Nick and Audrey find themselves in the middle of another deadly ordeal when a bodyguard winds up dead, and Vikram is kidnapped. Can the two almost gumshoes help solve this caper, or will Nick and Audrey once again end up being branded the prime suspects by the police and foreign press?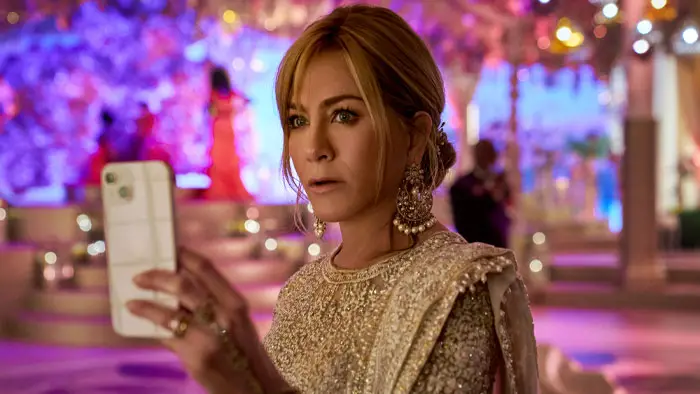 "…Nick and Audrey find themselves in the middle of another deadly ordeal when a bodyguard winds up dead…"
Back in 1999, when Sandler formed Happy Madison, I wasn't watching his movies as they weren't Italian horror bootlegs. Nowadays, I consume them like Happy Meals, as both are greasy and delicious and always come with a prize. I originally got hooked through that fabled production house's other great sequel Deuce Bigalow: European Gigolo. That led to regular visits to seedy second-run theaters for the latest Sandler work, including the ill-fated final stretch before the Netflix deal. Yes, that means Jack and Jill in public, and yes, I laughed my face off, thank you very much. Sandler's films' quality has soared since he freed himself from the theaters. Works of genius like Sandy Wexler and The Week Of would never have been green-lit in the constant pandering of theatrical distribution. Sandler has gone from guilty pleasure to acquitted pleasure, especially in regard to Murder Mystery 2.
This film is a pleasure indeed. The concoction of Agatha Christie elegance with Sandler's teetering on the edge of taste humor is high-impact relaxation, like a warm bath for your frontal lobes. This is the same kind of "revenge of Generation X" escapism for older audiences that the John Wick movies trade in. Like Wick, Sandler gives us a middle-aged power fantasy, except using faux pas instead of punches.
There is endless joy sparked by seeing Sandler and Aniston inflict their working-class reactions to all the opulence. This perception gives most viewers a feeling of immersion, as this is how most of them would behave in similar situations. I know I would eat the curd out of that cheese. The story revisits the elements that made the first film so fun while injecting enough development to feel like the second chapter. My only quibble is that it veers so far away from the whodunit atmosphere into Taken territory. It strains the appropriateness of the title almost to the breaking point, but it holds.
After the first film, I was ready for further adventures with Nick and Audrey. The cliffhanger ending here seals the deal for a chapter three, which I am excited about. So kick back and give your mind the night off with Murder Mystery 2.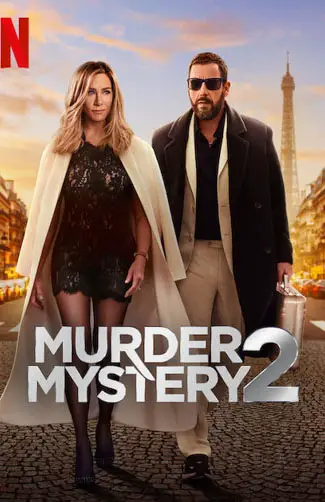 "…like a warm bath for your frontal lobes."