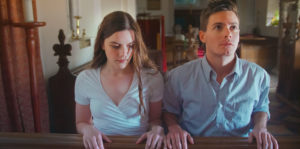 NOW ON VOD! Co-directors Hillary and Anna-Elizabeth Shakespeare, working as "The Shakespeare Sisters," have brought William Shakespeare's Much Ado About Nothing to the modern day in their film simply titled Much Ado. The story follows two young women, cousins, and best friends, Hero (Jody Larcombe) and Beatrice (Emma Beth Jones), who are at the home of Hero's father, Leonato (Peter Saracen). The pot begins to boil when the boys' Rugby team, including young men Benedick (Johnny Lucas) and Claudio (Luke Hunter), are welcomed to the house at the behest of Leonato.
With all these boys and two beautiful young women, love could be in the air. Beatrice had a fling with the arrogant Benedick in the past and now has sworn off men. Hero is infatuated with Benedick's friend Claudio but too shy to tell him. The gathering becomes a house party, and shenanigans ensue. These four star-crossed lovers zigzag around each other, and the question becomes whether love will win out in the end.
The challenge with Shakespeare lies in comparison. Much Ado About Nothing, in particular, because of its relative accessibility, has had a number of cinematic versions. Some are great, depending on your personal preferences. Of the many films made from this play, the two that stand out are Joss Whedon's vanity project from 2012 as a vacation from shooting The Avengers and the impeccable 1993 Kenneth Branagh version. Branagh stars, along with Denzel Washington, Keanu Reeves, Kate Beckinsale, and Emma Thompson. Over the years, Branagh's Shakespeare films have been the gold standard for how it's done. His Henry V and Hamlet are just two of a dizzying list of the Bard's works; he's got it down to a science.
In that improbably remarkable list, Much Ado About Nothing is arguably his zenith of Shakespeare films. It would, therefore, be grossly unfair to compare Branagh's version with Much Ado. The Shakespeare Sisters version here is angled toward Young Adult audiences. The setting is a house party. The vibe is hip, with playful young people engaging with one another, surrounded by pop music.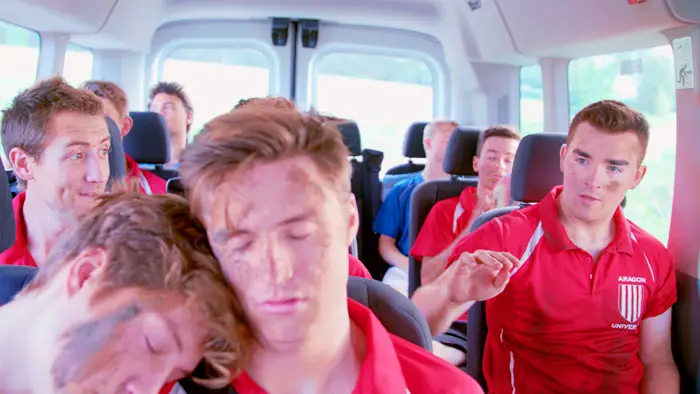 "Hero is infatuated with Benedick's friend Claudio but too shy to tell him."
But it is worth noting that The Shakespeare Sisters left out a great deal of the nuance that makes this comedy, well, funny. To wit: Don John's (Jack Boal) scheming is meant to inject dark conflict but is so exaggerated that it's laughable. Here, he's hardly mentioned. Constable Dogberry (Sean Micallef), played to frenzied, hysterical perfection by Micheal Keaton in Branagh's version, is basically thrown away. Instead, all of the heat and light are focused on the intrigues of the four main characters, and the result is thin and dull by comparison.
Another bone to pick with this production is the stilted performance of the language. Typically it would be sacrilege to suggest changing Shakespeare's lyrical, flowery language, but it just doesn't work in this film. An actor who deeply understands the Bard can take his long, overwrought strings of declaration and imbue them with the cadence and gravitas required to make them comprehensible to modern audiences. The young performers in this film just don't get there. To spin Much Ado as a Young Adult drama, the dialogue should have been modernized to current slang.
Any filmmaker interpreting Shakespeare has a duty to ensure something new is added, and it's unclear if this film meets that standard. There is, of course, value in an upcoming generation seeing Shakespeare performed by their peers, but beyond that, there isn't much new.
On the other hand, this is the archetype for romantic comedies in general. As a foundational piece with the language intact, when well-acted, it will always scratch a specific Elizabethan itch for an English-speaking audience. It's possible that this film will introduce Shakespeare to a younger audience, notwithstanding the grumblings of a cantankerous old critic. Hillary and Anna-Elizabeth Shakespeare should be commended for even trying Much Ado.