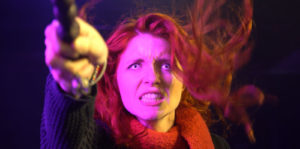 Directed by Joseph Charafi and written by Charafi and Adam Hampton, Ms. Goodwitch is a 30-minute action-romance fantasy. The titular good witch is Ember (Nicole Unger), who has been staying off the radar as much as possible not to arouse suspicion from her evil master. To that end, she runs a successful lifestyle blog, which requires a new logo. Enter Keith (Drew Aber), who works at an animation studio and has been giving Ember's assignment. The two meet to discuss the project and quickly fall in love.
However, a new boss, Jack Van Buren (Glenn Heath), at Keith's studio enacts strange demands. Soon enough, Ember realizes that this Jack person is her former master, up to his old tricks and trying to control everyone, everywhere. Now Ember must use her magic to ensure her soulmate's safety, save his co-workers, and stop the evil warlock from taking over the world. Her familiars, a talking dog and a talking goldfish, are by her side to assist in any way possible.
Ms. Goodwitch is fun, though a part is a little confusing. When Ember and Keith meet at the restaurant, they tell the server, "Just two" simultaneously. Bemused, the server mistakes this for an intimate couple. As a joke, Ember responds it is their fifth anniversary. All good so far. But the next scene is a montage of the two on several dates — going to the cinema, on a picnic, etc. The way it plays out makes it seem like this is happening all in one day. Does Keith not have to get back to work? Especially since this is after Jack takes over.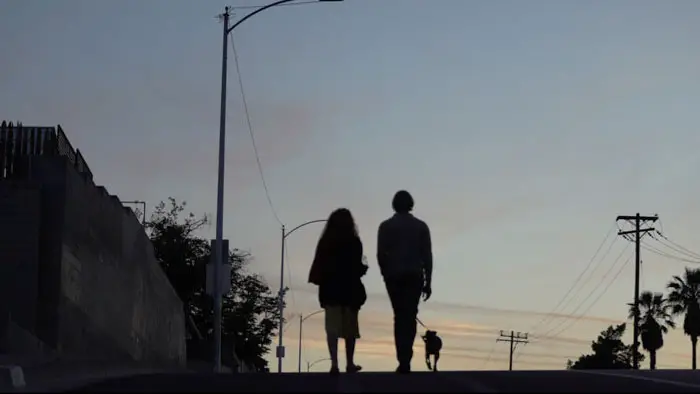 "…Ember must use her magic to ensure her soulmate's safety, [and] save his co-workers…"
However, the good handily outweighs the bad. Unger is excellent as the witch with a heart of gold. She's charming, sweet, and cute as a button. Her trying to calm Keith down when he discovers Ember's a real witch is believable. It helps that she and Aber share strong chemistry. For his part, Aber is affable, and his comedic timing is on point. At the restaurant, he's rifling through his papers and just flinging anything he doesn't need hither and tither. It's very funny. Heath overacts as the baddie. His bug eyes sell the manic vision of the evildoer properly.
As a short indie production, the special effects throughout Ms. Goodwitch are quite good. Floating Scrabble letters, the wind blowing indoors, and strong colored lights — red for Jack and purple for Ember — all build an authentic magical realm. It helps that the spellcasting bouts between hero and villain are well-edited and exciting.
Ms. Goodwitch has one sequence, sweet though it is, that creates a plot hole or two. But the rest of the film is strong. The cast is swell, anchored by Unger's charisma. The effects are top-notch, considering the budget, and the whole thing is just delightful by the end.