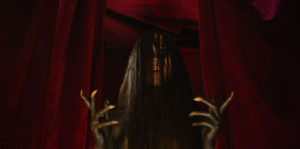 Witchcraft has been the subject of many films in cinema history, especially during the 1960s and 70s. Indeed, the likes of Rosemary's Baby and Dario Argento's Suspiria come to mind for many. In his feature directorial debut, Pierre Tsigaridis attempts to put his spin on the genre with Two Witches, which he co-wrote with Kristina Klebe and Maxime Rancon.
Told in chapters, we begin with "The Boogeywoman." One evening, Sarah (Belle Adams), an expectant mother, and her boyfriend, Simon (Ian Michaels), dine at a restaurant. There, she catches a glimpse of an older woman giving her the evil eye. This instance causes Sarah to become severely anxious, and she begins to see visions of this woman as a witch and other demonic hallucinations. Simon, however, is a skeptic and deduces his significant other's anxieties to be a result of hormones. With friends Dustin (Tim Fox) and Melissa (Dina Silva), they turn to an Ouija Board to speak with the spirits. Unfortunately, doing so causes them to overtake Sarah, leading to a bloody result.
The following chapter, "Masha," explores the relationship between roommates Rachel (Kristina Klebe) and Masha (Rebekah Kennedy). Masha bears jealousy towards Rachel for having a loving boyfriend, and then Masha reveals that her dying grandmother is a witch. When she passes away, Masha will gain all her powers. After tension rises between the two, Masha vows revenge against Rachel. Meanwhile, at a Christmas party, Dustin and Melissa meet Masha and discover her true identity.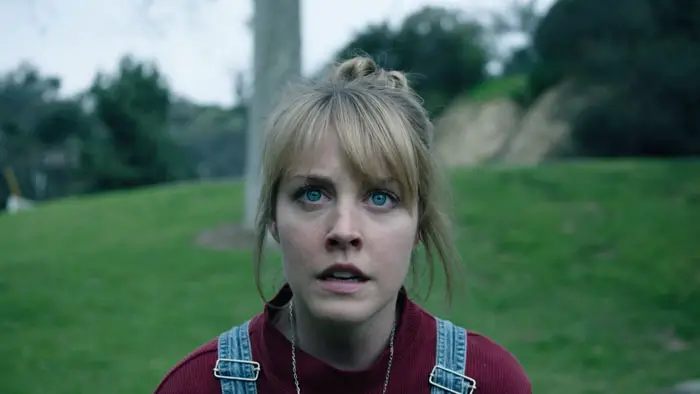 "…begins to see visions of this woman as a witch and other demonic hallucinations."
Tsigaridis is also credited as the director of photography and editor. Wearing so many hats does not always work. That said, Two Witches is a good-looking film. The photography shows a lot of style with its stark lighting and sometimes fast-moving camerawork. It is also well-paced, though some of the horror sequences can be overlong, and the jump scares are overdone. Still, this is a technically sound film, considering how much Tsigaridis did himself. Where it falls through the cracks is in its storytelling.
The plot is a mixed bag. The film splits into two parts, both in its presentation and execution. Audiences will undoubtedly see the nods to the movies mentioned above, and in that respect, it is a fun watch. However, the pieces of the two narratives do not always come together as intended. Instead, it feels like two short films strung together without a throughline. Perhaps too many ideas were being tackled by the screenwriters. Their attempts to put the plots together by including Dustin and Melissa in the second chapter feel like an afterthought.
The first chapter is the more interesting of the two. It is also the more genuinely scary and creepy section. Focusing on Sarah and Simon's story and developing their characters further may have been beneficial. It also may have been interesting to see more of a reason why the witches are after Sarah's unborn child. As it is, not much is explored beyond the anxiety of the situation. More problematic is the story doesn't have anything new to say.
In its epilogue, Two Witches promises to continue. There is actually great potential to explore further in this world. Tsigaridis is a talented filmmaker who directs the film's look and tone well. But next time, let's hope more attention is paid to the characters and story.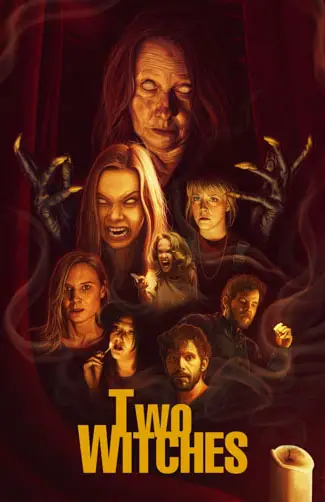 "…Tsigaridis is a talented filmmaker..."