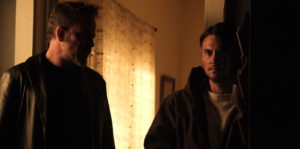 COMING TO THEATERS AND VOD! I recently got into a debate about whether director Nicholas Maggio's Mob Land was a Southern mob movie. Well, The Godfather was a character study of Michael Corleone, and this crime thriller becomes a character study as well. Let's get into it.
Shelby Connors (Shiloh Fernandez) is a blue-collar family man with a loving wife, Caroline (Ashley Benson), and daughter, Mila (Tia DiMartino). The problem is that living in the economically depressed South, he struggles to make ends meet. Ready to get Shelby in trouble is his brother-in-law Trey (Kevin Dillon), who proposes the pair rob a health clinic fronting as a fentanyl dispensary. The clinic is never adequately staffed. So in, out, and they're rich. At first, Shelby resists because Sheriff Bodie Davis (John Travolta) is a close family friend, and potentially going to jail is not in the plans for this family man.
When Shelby realizes he'll never survive with his current job prospects, he agrees to the heist. At first, all goes well, but like any good mob movie, things go haywire fast. The results are two people dead and a high-speed car chase with Bodie in hot pursuit. Managing to ditch the sheriff, the pair draws heat from the mob, who send their best enforcer, Clayton (Stephen Dorff), to rectify the situation and remove everyone associated with the heist.
What makes Mob Land so fascinating is the character study of our three leads and how a single event changes them over time. Shelby is the loving family man who gives into temptation and is not forced to unspeakable acts as a result. Clayton is the mob enforcer with a moral compass. He will only kill the guilty. Early on, he dispatches Trey and then, under threat of harm coming to Caroline and Mila, forces Shelby to do the dirty work he is morally unable to commit.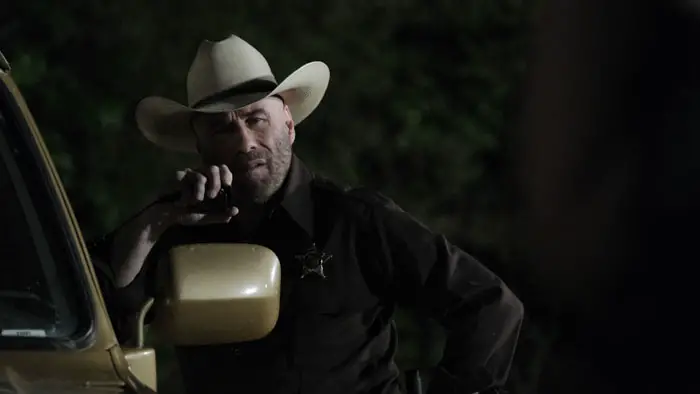 "…the pair draws heat from the mob, who send their best enforcer…"
Bodie is also an interesting character. The film opens with Clayton beating down an employee of a man who owes money to the mob. This act of violence is contrasted with Bodie's deer hunting trek in the forest. When he's unable to kill his target cleanly, he must find the deer and mercifully end the innocent creature's suffering. This scene becomes the guiding force of Bodie for the rest of the movie.
OK, maybe Mob Land is not a true mob feature but leans toward the noir end of the spectrum. The moral compass (whether lawful good or chaotic evil) is put to the test. Each character's act of violence is a decision that keeps them either within that line of morality or forces them to cross it. Of course, each decision leads to severe ramifications.
What makes this entire thriller flow so well is its badass cast. Travolta, Dorff, Dillon, and Fernandez. These actors keep the story grounded as each person is tested. Dorff absolutely kills it as Clayton. He's clearly having fun with not just the violence but in creating such a complex character.
Now add to Mob Land the moments of violence indicative of a mob movie, and you have a nice indie crime thriller born from Nicholas Maggio and Rob Healy's screenplay. The attraction of this top-notch cast had to be the well-defined characters created by the filmmakers.
Mob Land comes to theaters and on digital demand on August 25, 2023.