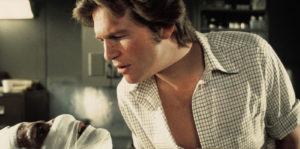 The sordid backstory of Winter Kills, written and directed by William Richert, and based on a novel by Richard Condon, makes for a truly fascinating story in and of itself. Two of the producers were drug dealers, one of whom was apparently murdered by the mob two weeks before the film was released. The other was later sent to prison. The production went bankrupt in the middle of shooting, with many famous cast members supposedly never getting paid or being paid in cash.
Richert and star Jeff Bridges had to shoot another picture in Germany, The American Success Company, in order to make enough money to finish this one. Condon even says that the Kennedy clan may have tried to suppress the release during Ted's possible presidential campaign, with the film being mysteriously pulled from theaters. Quite the commotion for a box office bomb that has hardly been seen by anyone since its initial release in 1979.
For all of this exciting buildup, in addition to the hype of Quentin Tarantino re-releasing Winter Kills in his theaters, the final product is a strange, slow-moving conspiracy theory satire. The story is based on John F. Kennedy's assassination but with different names and a new murder location. Bridges plays Nick Kegan, half-brother to the murdered president, and almost a much younger version of his iconic Dude character from The Big Lebowski. Watching him get yanked around in both movies so much brings laughs (although much more hilariously in the Coen brothers' classic). Alas, Nick is not aloof and easy-going enough to reach Dude status, but you can see the building blocks if you squint hard enough.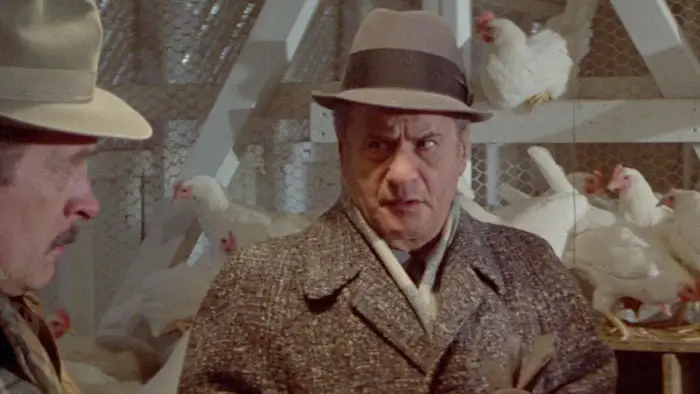 "The next thing Nick knows, the gun is missing."
Someone comes to Nick on a ship and confesses that he was the second gunman who killed his brother, and with his dying breaths, tells him where to go to Philadelphia to find the rifle. Skeptical, Nick goes anyway and, sure enough, finds the gun. He gets in a car with a friend and some police officers, and before you know it, they're all shot in the head, save for Nick. The next thing Nick knows, the gun is missing. This sets him off on a wild goose chase for the truth, where his wealthy and perverted father Pa Kegan, a Joe Kennedy type (the late great John Huston channeling his corrupt Chinatown role with a sly wink and nod), ends up being his greatest obstacle.
The cast of Winter Kills is a who's who of Tinseltown in the 1970s. Elizabeth Taylor shows up in a non-speaking role. Anthony Perkins is delightfully creepy as Pa's creepy and demented right-hand man. Dorothy Malone, Richard Boone, Ralph Meeker, Eli Wallach, Sterling Hayden, Toshiro Mifune, and Tomas Milan all make appearances.
The directing is very of its time. It has a "no hurry" type of pacing, the style of the era, and kitschy humor. I can see how someone like Tarantino would eat up the cult appeal of a feature like this. Scenes like the one where Nick is tussling with a suddenly evil maid, and her top happens to fly off, is the most shocking and funny example of Richert's odd sensibility. Sadly, much of the rest is only slightly strange instead of going all-out.
As it stands, Winter Kills is entertaining enough. I wish I were as fascinated with the flick as I am with the behind-the-scenes story. Cult classic status, not quite, but an oddity that definitely deserves to be seen.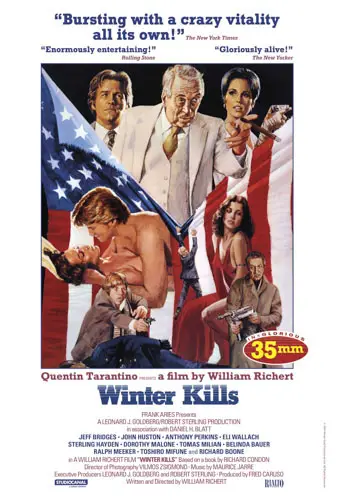 "…an oddity that definitely deserves to be seen."