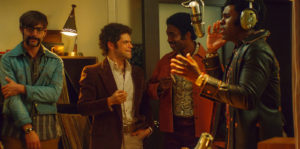 NOW IN THEATERS! I've never heard of Neil Bogart, but I've definitely listened to the majority of his Casablanca Records clients. In Spinning Gold, Timothy Scott Bogart tells the story of his infamous musical father. Neil (Jeremy Jordan) was a man who loved to entertain. However, early in his career, Neil knew he would not make it as an entertainer and shifted his focus to finding the potential in singers and musicians that the record industry naively passed over.
While living on the East Coast, Neil amassed his Buddah records crew, including Buck Reingold (Dan Fogler), Nancy Weiss (Peyton List), Cecil Holmes (Jay Pharoah), and Joyce Biawitz (Lyndsey Fonseca). His success at Buddah Records was fast and meteoric, putting the Isley Brothers (Doron Bell and Jason Derulo) on the map and wooing an unhappy Gladys Knight (Ledisi) into the fold with her hit song, Midnight Train to Georgia.
But Spinning Gold shows that Neil's real drama came in his attempt to move to Los Angeles and start Casablanca Records. Neil banked everything on two specific acts, KISS and Donna Summer (Tayla Parx). You can also add George Clinton (Wiz Kalifa) and Parliament to the mix. Yes, we know them today, but then they couldn't find an audience, and no one bought their records.
Neil pushed these acts so hard that he wound up over $7 million in debt, partially to the mobster Big Joey (Vincent Pastore). While in the deepest and worst debt, he got hooked on cocaine and engaged in a long-time affair with Joyce Biawitz leaving his wife Beth (Michelle Monagan) in the process. Then again, who wasn't hooked on coke in the 1970s and 80s? Now add a large inventory of records no one wants, and Neil Bogart is in serious financial trouble.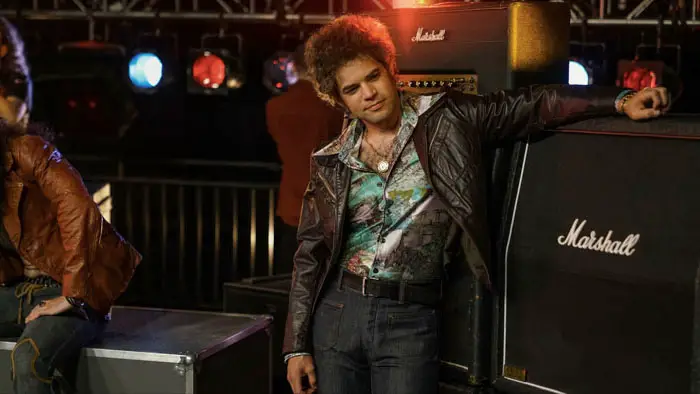 "Neil banked everything on two specific acts, KISS and Donna Summer."
Our musical references almost always come from our adolescent years, and the music of Casablanca records was what I listened to in my teens. I'm very familiar with Donna Summer, Kiss, and The Village People, to name a few. This fond nostalgia of mine is the inherent weakness of Spinning Gold. Putting my marketing hat on for a moment, this film will probably go over big for audiences in my age range. Yet, I'm not convinced it has much play outside of this demographic. Sure, Jeremy Jordan is popular among Millennials, but is he the draw the film needs?
The film is a hybrid musical/biopic. Yes, you've got the songs from the Casablanca catalog sung by the actors, and their renditions are exceptional, but not the real thing. There are some dreamlike musical numbers… so, if you like musicals. Also, Casey Likes and Sam Nelson Harris don't do KISS justice. They are good but don't capture Gene and Paul's energy.
As a biopic, Spinning Gold is good and meets the genre standards. Yes, the lead breaks the fourth wall and speaks directly to the audience, reminiscing about his career and the past. We capture the high and low moments of Neil's career and personal life. What comes across is his passion for music and his relentless optimism that almost bankrupted him and got him murdered. Meanwhile, Neil's singular belief that he could put Casablanca records on the map adds some stakes.
I would surmise that this is a love letter to Neil Bogart, who passed away in 1982, from his sons Timothy, the writer and director, and Evan, the composer. By the way, the film's soundtrack comes out on Atlanta Records. Neil's story is fascinating, and his sons pay sweet homage to him, warts and all. The plot, about a man who followed his dream, just oozes optimism. If you grew up in this era, there's a lot of nostalgia value here. Toe-tapping fun is how I'd describe my time with Spinning Gold. However, I'm not convinced the film has the legs to reach a broader audience.