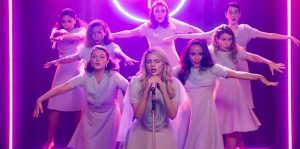 CINEQUEST FILM FESTIVAL 2022 REVIEW! The genre-bending and exquisite Medusa, from Brazilian auteur Anita Rocha da Silveira, is Suspiria combined with Jesus Camp. Mari (Mari Oliveira) is a high-standing member of a fundamentalist Christian community in Brazil. She is one of the singers in the Christian musical group Michelle and her Treasures from the Lord. They do elaborate performances for the church, such as a version of "House of the Rising Sun" with the lyrics reworked to reflect the joys of housewives submitting to their husbands. Mari's best friend, Michelle (Lara Tremouroux), is a social influencer with videos like "How to take the perfect Christian selfie."
At night, the two friends don white doll-like masks with other group members and savagely beat up girls in the streets for being sinful. After they throw a boot party on their victims, they force them to make recorded pledges to Jesus, which are posted on social media for likes. This tradition started long ago when a wild young woman from the town, Melissa (Bruna Lizmeyer), appeared in an art film where she did a nude scene.
Prompted by the sinful behavior on display, an unknown woman, described as an avenging angel with a white mask and gas can, sets Melissa's face on fire in the name of purification. The actor disappeared after that, with television specials speculating on what happened to her. While the girls of the community hunt down home wreckers and feminists to brutalize, their church has a male counterpart group, the Vigilantes of Zion, who put homosexuals into comas.
One night, a victim fights back and cuts Mari's face with a broken bottle. This tarnish on her appearance causes her to get fired from her job at a plastic surgery clinic. Her disfigurement causes an obsession with tracking down Melissa. Mari's search leads her to get a job in a hospital for coma patients, where she is teamed up with the cute, worldly Lucas (Felipe Frazao). Then, Mari discovers a basement where a woman with a white mask has been in a coma for decades.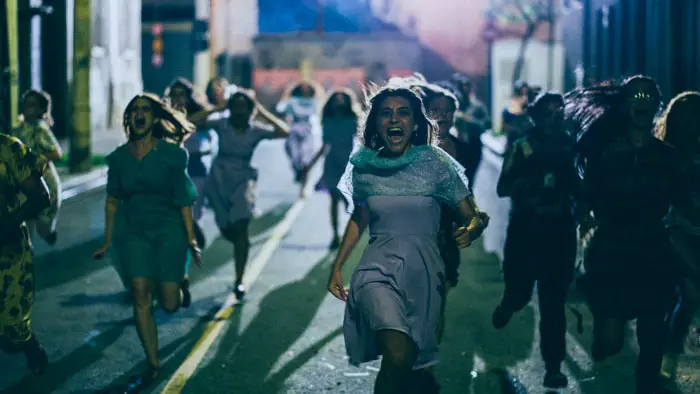 "…Mari discovers a basement where a woman with a white mask has been in a coma for decades."
Medusa is a homage to the creative peaks of Dario Argento. It deliberately utilizes his ultra-neon visual style as well as the throbbing rock scores originated by the Italian band Goblin. The film opens with a candy-colored contortionist ballerina sequence that screams spaghetti horror. There are several direct references to specific scenes in Argento's work, including the infamous dialogue about how women whose names begin with S are snakes from Suspiria. Only da Silveira makes the letter be M. The filmmaker manages to capture the essence of Argento's unique cinematic power, such as his famous hallway tracking shots and surreal lighting of his cast.
Ironically, these stylistic sequences were usually cut from the American releases, all in the name of pacing issues that didn't exist. Argento abandoned a lot of his signature style in his later work due to budgetary constraints and, perhaps, talent deterioration. So da Silveira resurrecting this distinct style for her feminist deconstruction of violent fundamentalism is most welcomed. It is eerie how smoothly Argento's kaleidoscope colors meld into the lighting for a megachurch sermon.
The format and intentions of Medusa are pure art house, using the horror elements to reinforce the high aspirations of the social critique. I have felt for years the horror genre has this potential to make art films, just like directors like Fassbinder and Almodovar made art out of the vocabulary of Sirk's 50s melodramas. Anita Rocha da Silveira even utilizes an animal mask element as a symbol of worldly social temptation. This harkens back to several horror classics from The Nude Vampire all the way to the comparatively recent You're Next.
Medusa is an electrifying work of art that elevates its already elevated pop influences, a transcendental tableau of the true-life horror of female oppression.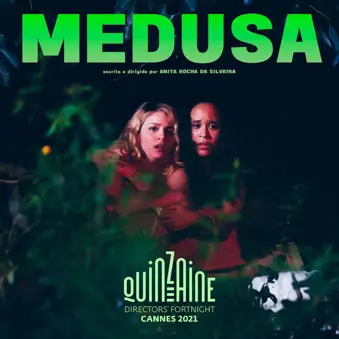 "…a transcendental tableau of the true-life horror of female oppression. "