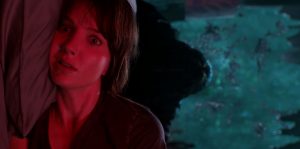 Say what you will about James Wan's latest demented cinematic horror trip, Malignant, but run-of-the-mill it's not. Harrowing and bland, ridiculous and terrifying, inspired and corny, the film is built on contradictions, falling somewhere between Cronenbergian body horror, a Stephen King psycho-study, and Frank Henenlotter's grisly exploitation. Yet, amongst all the groan and yawn-inducing parts, truly inspired moments shine, not to mention the final third that has to be seen to be believed. Wan goes for broke, and the sheer audacity on display is bound to render his new venture lucrative and perhaps even sequel-worthy.
The introduction immediately turns the dial to 11 – it involves an escape at a mental asylum, a massacre, and a tranquilizer gun – and establishes an uber-heightened, tongue-in-cheek tone, which then abruptly turns somber. Pregnant Madison (Annabelle Wallis) is stuck in an abusive relationship, the trauma depicted in a brutally efficient, realistic fashion. Luckily for her, the prick is soon offed by Gabriel (Ray Chase), a terrifying entity with long black hair covering his deformed facial features. Madison is knocked unconscious; when she wakes up, she's told she had a miscarriage – not her first.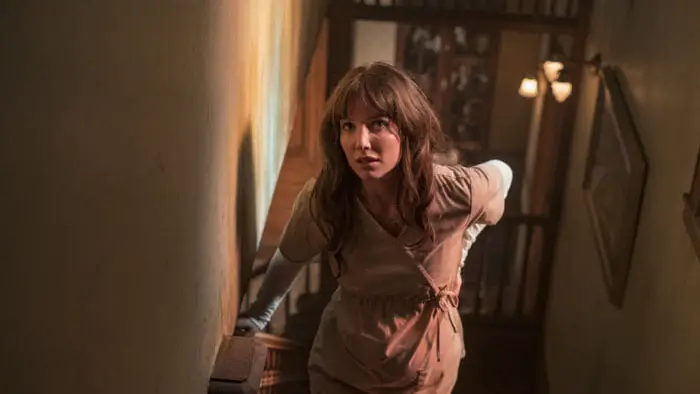 "…an escape at a mental asylum, a massacre, and a tranquilizer gun…"
Madison has no choice but to confront Gabriel, as her sister Sydney (Maddie Hasson) provides emotional support. To reveal anything at all about Gabriel's true nature would be a major disservice to the movie – let's just say that Madison harbors a deep-rooted connection with the disfigured emo monster. She even possesses the ability to be transported to the location of his murders and witness them first-hand. With a couple of hapless cops on the case, things escalate gradually, leading to a bonkers finale that's bound to induce screams, weird dreams, and countless memes.
Yes, the central premise of Malignant is twisted, repugnant, bad-taste, and utterly sick. But it's so outrageous that one can't help but gawk as bodies get mutilated in spectacular fashion by the BDSM-trench-coat-sporting villain. Wan has style to spare, his direction brimming with confidence and his by-now-familiar trademarks: a roving camera that swings up at one point to follow its heroine through her spooky house in bird's-eye-view; a cunning use of space, wherein you study the screen frantically, searching for something in the corner of your eye; and masterful handling of action sequences (honed by his helming of Furious 7 and Aquaman).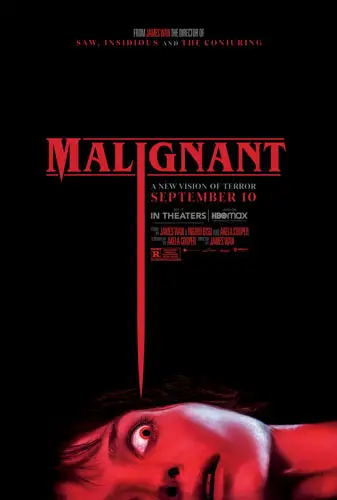 "…harrowing and bland, ridiculous and terrifying, inspired and corny..."