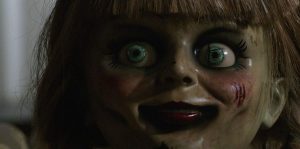 While babysitting the daughter of Ed and Lorraine Warren, a teenager and her friend unknowingly awaken an evil spirit trapped in a doll.
Just when you thought it was safe to play dolls again, Annabelle Comes Home with a surprisingly clever third entry into the franchise. The Annabelle films have not been a liner, per se with this film's timeline landing in between Annabelle, and Annabelle Creation as the evil doll literally comes home to take a spot in Ed and Lorraine Warren's the demon-infested rumpus room. Of course, things go horribly wrong and the evil, scratch that, evils, are set loose to run amok while the Warren's are away. What results is a film that never achieves the hair-raising suspense of Creation, yet instead plays like a fun 70's haunted house movie complete with the laughs, thrills, chills, and almost-too-sappy moments of sincerity.
As stated, Ed (Patrick Wilson)and Lorraine (Vera Farmiga) Warren must go away overnight. This leaves their young, clairvoyant daughter Judy (Mckenna Grace) in the caring hands of babysitter Mary Ellen (Madison Iseman) and friend Daniela (Katie Sarife). Ignoring stern warnings to stay away from the locked room that holds spiritual and demonic dangers, Daniela lets curiosity get the best of her, and she makes her way in. The nosey teen lets loose, not just Annabelle, but all of the evil forces contained the room, and by nightfall, the three girls are scrambling around the split level home running from evil spirits. This isn't so much about Annabelle, as much as it is about her and her friends coming out to play and there are plenty. Worst sleepover ever!
"Ignoring stern warnings to stay away from the locked room that holds spiritual and demonic dangers…"
With a story by Conjuring Universe producer James Wan Annabelle Comes Home keeps the main story contained to the Warren home, asking what would happen if all of the entities trapped within were allowed to run amok. Directing his first feature, and also covering the screenplay, Gary Dauberman turns out an impressive and highly entertaining haunted house movie. Dauberman has learned a thing or two from Wan with his clever use of foreground and the almost geometrical framing and setups.
Suspense is painfully lacking, but that doesn't mean the film is remiss in thrills or even a few good scares. One of my favorite gags involves an antique television that broadcasts from 10 seconds in the future. One note that could assuredly be given is perhaps to pull back on the schmaltz. Some of the moments that are meant to be heartfelt come off as syrupy sweet and painfully strained.
"…a solid madhouse of fun that delivers enough to be entertaining."
The cast is anywhere from adequate to great with Grace as lonely Judy really holding her own. However, the real star is the wonderful production design by Jennifer Spence and set decoration by Lisa Son. You can practically feel the shag carpet between your toes and smell the paneling.
With yet another Annabelle movie, one is right to be concerned with how original any of the movie might turn out to be. A totally fair point to be sure. Yet somehow, we get a new Annabelle movie that develops its own personality and takes on the lore without rewriting or undoing anything that has already been shown in the other films.
Annabelle Comes Home is a hell of a lot of fun. It isn't perfect, but it is a solid madhouse of fun that delivers enough to be entertaining.
Annabelle Comes Home (2019) Written and directed by Gary Dauberman. Starring Vera Farmiga, Patrick Wilson, Mckenna Grace, Madison Iseman, Katie Sarife, Michael Cimino.
7 out of 10 stars