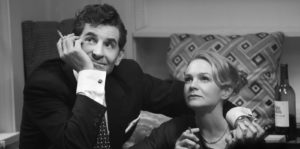 I could easily see people not liking Bradley Cooper's Leonard Bernstein biopic, Maestro. It pays homage to cinema of the 50s, 60s, and 70s and boasts a sweeping orchestral score of Bernstein's best and all the markings of the American musical. Cooper gives a transformative performance, and I'm hooked.
In the first half, Maestro opens with a life-changing phone call when he's needed as a last-minute replacement as the conductor of the New York Philharmonic, and the moment propelled the gifted Bernstein into the forefront of the New York art scene, where he thrived over his love of conducting, composing, and Broadway.
While at a swanky party, fate would bring Lenny into the presence of stage actress Felicia Montealegre (Carey Mulligan). The two would fall in love (in a magical musical way), marry, and start a family. Felicia would put her career on hold and raise the children, while Lenny, like any artist, spends his time working.
But this idyllic marriage would slowly show its cracks as we soon discover that Leonard Bernstein was a gay man. At first, he was quite adept at covering up his indiscretions, but news of Bernstein's predilection was kept hush-hush. Rumors were impossible to remain hidden.
First, Maestro is a work of art. It's a shame most people won't see this film in a theater but streamed on phones through Netflix. The film's first half focuses on Leonard's love affair with Felicia. It's shot in black and white, and each moment of their lives is accompanied by one of Bernstein's concertos or musical scores. There's a juxtaposition between the simple moments of the pair standing on a basement stage or having a picnic in the park accompanied by the sweeping score.
"…thrived over his love of conducting, composing, and Broadway."
We dive deep into their relationship. Conversations were often about art, music, and the business that is Leonard Bernstein. For musical fans, On The Town is featured in a dreamlike sequence between Leonard and Felicia.
The second half of the film transitions to color and spotlights Bernstein's dalliances with his various lovers and how Felicia finds herself in a sexless marriage coping with the humiliation of Leonard's affairs. Yet, Leonard is just as driven to advance his career more than ever.
Maestro is unlike any biopic I've ever seen. Bradley Cooper transformed himself into Leonard Bernstein over the course of several decades…meaning intensive makeup. He's also directing the film at the same time, and his impression of Bernstein evolves over time just as Bernstein did himself.
The dialogue is equally impressive. Some of the themes of Bernstein's life include his dedication to his career, his craft, and his impossible-to-define marriage. These themes are addressed and explored without ever speaking of them directly in dialogue. This movie has so much subtext that your brain will be overloaded. Luckily, we're treated to some incredible cinematography and music. Maestro is as deep as it is beautiful, and this non-traditional story will keep you off balance right from the start.
What Bradley Cooper ultimately pulled off with Maestro was beyond impressive, and as Felicia, Carey Mulligan is Cooper's perfect dance partner. As a biopic, Cooper elevates it to masterpiece level, worthy of the artistry of Leonard Bernstein. Maestro is a work of art.
Maestro screened at the 2021 AFI Fest.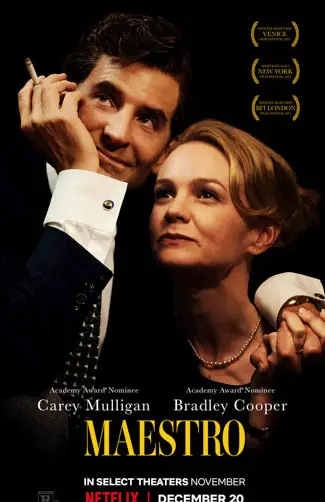 "…Cooper gives a transformative performance, and I'm hooked."