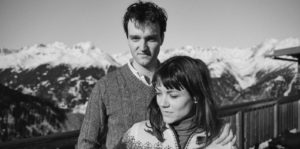 AFI FEST 2023 REVIEW! Co-writer-director Timm Kröger's wild feature The Universal Theory is quite literally everything all at once. It is a mystery noir, a science fiction thriller, a romance, a psychedelic trip, and a spy flick. There are quantum mechanics and parallel worlds, grisly murders and a femme fatale, even allusions to Nazism. All of this takes place in the Swiss Alps, rendered particularly otherworldly via the stark cinematography by Roland Stupich and an eerily spare sound design. While the filmmaker drops some of the balls he juggles, it's still an impressive effort that deserves your attention.
After a brief early-1970s talk-show-style intro, the distorted, pixelated images jarringly switch to a crisp, monochrome black-and-white visual style. It's 1962. Under the tutelage of the austere Dr. Strathen (Hanns Zischler), young scientist Johannes (Jan Bülow) embarks to the Alps on an academic retreat. It takes place in a remote hotel, both classy and on the edge of decrepit, where strange shenanigans tend to occur. Unnatural cloud formations drape the skies. Cancerous skin rashes appear from possible radioactive rocks in the area. Frequent avalanches threaten to immerse unexpected folks in bone-crushing snow. There is an underground tunnel that leads to… what, exactly?
"…in a remote hotel, both classy and on the edge of decrepit…strange shenanigans tend to occur."
Johannes reacts to it all with a modicum of wonder. He's more interested in pursuing local pianist Karin (Olivia Ross), a mysterious, beautiful vixen who both taunts him and seems to warn him. But when the murders start to happen – gory ones, with the victims' skulls smashed, and their brains leaked out and frozen – Johannes has no choice but to, quite literally, descend into the dark depths of a rabbit hole.
Kröger and co-writer Roderick Warich's ambitions can't be faulted. The Universal Theory tackles heavy subjects like obsession, alienation, post-war paranoia, seeking a compatible partner, existential angst, and pseudo-science. The stylistic elements, however, don't quite gel. Diego Ramos Rodriguez and David Schweighart's insistent Bernard Herrmann-esque score quickly starts to grate, especially when contrasted with the effectively quiet silence of the Alps. Twenty minutes could've easily been trimmed off. The gradual pacing begs for some sort of a catalyst to get things going, and most crucially, the more mysteries the plot throws at us, the more frustrating it becomes. There are only a few cinematic auteurs who can make confusion compelling – and even Lynch has taken major stumbles (see: Lost Highway).
Towards the poignant finale, Kröger's goal becomes more evident. His ideas crystallize – it's like the filmmaker tightens the screws. If only he had tightened them a bit earlier, he could have had a truly original masterpiece. He, despite exuding utter assurance, at times seems as lost as his similarly "assured" characters. The Universal Theory works in fits and starts but is bound to leave the audience not entirely convinced by its logic.
The Universal Theory screened at the 2023 AFI Fest.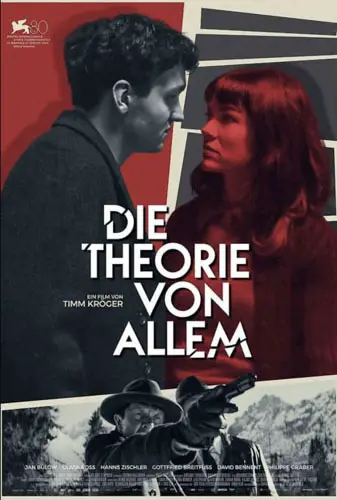 "…tackles heavy subjects..."