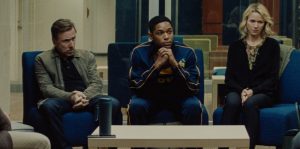 Luce has a lot on its mind but never feels overstuffed or unable to handle of the topics at hand. As a social drama, director Julius Onah and writer J.C. Lee (adapted his play of the same name), keep things moving at a swift pace, finding new avenues to explore race, social class and the pressure both can accrue for someone trying to shape their identity.
"…all feel they know what's best for Luce but have different ways of addressing it."
Watts, Roth and especially Spencer all deliver some of their best recent work, somehow operating on opposite sides of the same issue. They all feel they know what's best for Luce but have different ways of addressing it. Harrison Jr. delivers a take-notice performance as the title character, caught between trying to please everyone and pleasing no one. He struggles with the commoditization of his talents and the pressure that comes with such expectations and Harrison Jr. captures a character caught in the middle. Everyone thinks Luce might be perfect but how could that even be?
The last act of Luce flirts with melodrama, which feels unnecessary because everything before it feels so natural and reflective of conversations we are – or should be – having today. Onah doesn't lean too heavily into the histrionics and continues to focus on the ever-changing characters. Throughout the movie, allegiances will shift and trust and motivations will be questioned. You may leave Luce with unanswered questions but that's kind of the point.
Luce (2019) Directed by Julius Onah. Written by J.C. Lee. Starring Naomi Watts, Tim Roth, Kelvin Harrison Jr. and Octavia Spencer. Luce is the opening night film for the 2019 Newport Beach Film Festival.
8 out of 10