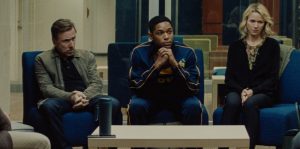 Luce is a quiet stunner, ready to unnerve you in unexpected ways. That's not to say it's any kind of conventional thriller, using cheap scares for entertainment effect. Luce is much smarter than that. It rests upon topical conversations the characters have and analyzes how there's no one answer to anything in this world. Luce's lack of clarity is what makes it so unsettling. It does what any good movie should – it starts a conversation, which continues long after you've exited the theater. Much more impressively, it doesn't dictate the response an audience should have and invites itself to burrow into your mind, without any chance of leaving.
Amy (Naomi Watts) and Peter (Tim Roth) are a middle-class couple, who adopted their son Luce (Kelvin Harrison Jr.) from war-torn Eritrea when he was just seven years old. At such a young age, Luce saw and absorbed things most people should never see, but Amy and Peter were determined to provide a safe home filled with love and trust for him. As the movie opens, Luce is a senior in high school, and everything seems idyllic in their household, but Amy treats their relationship with a certain level of fragility because it took so long to build their relationship with Luce.
"…Luce saw and absorbed things most people should never see…"
As a high schooler, Luce is the model student: good grades, a track star, member of the debate club and popular. He has a million-dollar smile that most administrators want representing their schools at all functions, which makes Luce the perfect poster child for his high school and treated like a king by the school's principal. This kind of attention can make any young person feel invincible or collapse under the pressure, and it's interesting how the movie toggles between exploring both sides.
Luce faces added pressure from his teacher Harriet Wilson (Octavia Spencer), who has the same vision of Luce as the rest of the school. Mrs. Wilson is a bit different than the rest, however, because she isn't afraid to call attention to a paper Luce wrote for her class that suggests differences can be solved through violence. She calls Amy in for a discussion about the paper, which seems like a simple misunderstanding, but are heightened by the fact she found illegal fireworks in Luce's locker.