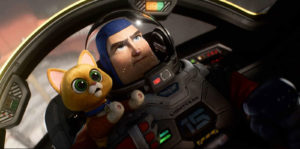 NOW IN THEATERS! "Refreshing" is the first word to pop into my mind after watching Lightyear. For some reason, I was just missing the fun I had watching Toy Story for the first time. Granted, this film, directed by Angus MacLane, is a very different story, but it is fun nonetheless. Welcome back, Pixar. Can we do a few more of these before you get all abstract and everything again?
In Toy Story, we were treated to the adventures of Galactic Ranger Buzz Lightyear, the toy. Now, Lightyear, written by MacLane, Matthew Aldrich, and Jason Headley, is the "movie" that inspired the toy. Buzz (Chris Evans) is a pilot of an enormous onion-shaped vessel carrying a large population of humans hoping to find a new planet to colonize. While exploring a strange world, Buzz, his commanding officer Alisha Hawthorne (Uzo Aduba), and nearby "red shirt" Featheringhamstan (Bill Hader) are attacked by the planet's aggressive plant life. During their attempt to escape, Buzz crashes, leaving our heroes stranded.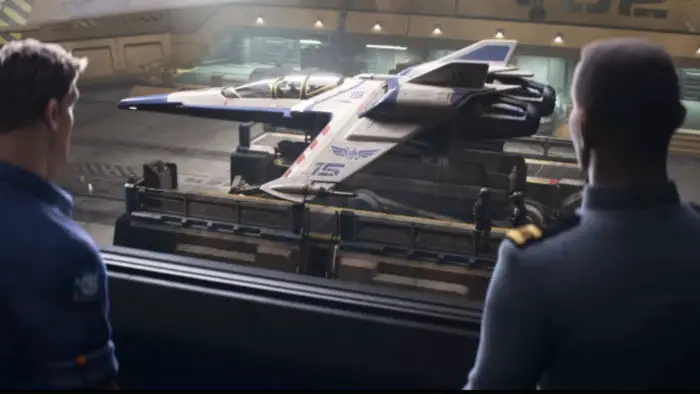 "…Buzz aged an hour, and everyone else aged years."
With no possibility of rescue, Buzz and Alisha try to rebuild the ship's hyperdrive. However, when Buzz tests the first hyperdrive by slinging himself around the sun, the drive fails and causes a strange phenomenon. Though his test only took hours to complete, time on the planet moved forward several years. In other words, Buzz aged an hour, and everyone else aged years. Nevertheless, the determined space ranger refuses to give up and embarks on one test mission after the other.
Now decades have passed for everyone except Buzz. Eventually, Alisha passes on, and the new leader wants to ground Buzz permanently as everyone seems pretty content with life on the new planet. Buzz decides to defy orders and go out for one last mission, which is a success. Yet, when he returns, many more years have gone by, and society is encased in a bubble guarded by the Evil Zurg and his army of robots.
Lightyear then introduces us to the only ones, not in the bubble. They're a ragtag team of lost underachievers, including naïve recruit Mo (Taika Watitti), ex-con Darby (Dale Soules), robot cat Sox (Peter Sohn), and Alisha's granddaughter Izzy (Keke Palmer). Buzz must learn to trust his less-than-talented recruits to defeat Zurg and rescue his people.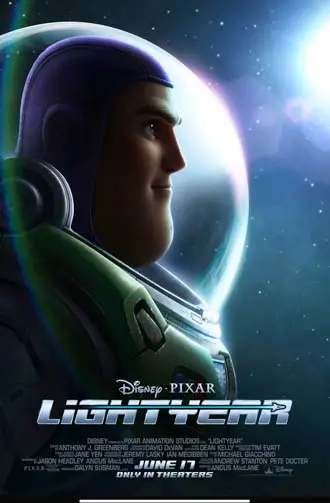 "…a fun, funny space adventure that speaks to the young child that still lives in my heart and mind."