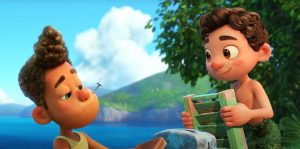 More times than not, when Disney and Pixar get together, it is a winning combination. They have proven their success with franchises like Toy Story and Monsters Inc., as well as its stand-alone films such as Inside Out and Coco. Their latest collaboration, Luca, is an original production released exclusively on Disney+. But rest assured, the film is just as much of a hit as their box-office blockbusters.
Luca (Jacob Tremblay) is a young sea monster who wonders what life is like on the surface as he herds fish. All he has ever known is the sea and the many creatures that inhabit it. Luca's parents (Maya Rudolph and Jim Gaffigan) have always warned away from playing near the surface of the water for fear of being caught by "surface monsters." One day, he follows a fellow sea monster, Alberto (Jack Dylan Grazer), to the shore and finds out that he can instantly disguise himself as a human. Luca falls in love with everything it has to offer, so much so that he starts staying on the surface. Worrying about their son, his parents take to the streets of this small Italian village to find him.
Alberto has been living on the surface for a while and is already comfortable with life there. Meanwhile, Luca often finds himself second-guessing everything and hanging onto his friend's often incorrect words. The two meet Giulia (Emma Berman), a young girl competing in the Portorosso Cup. The three decide to form a team and enter the traditional Italian summer triathlon, where the grand prize is money.
The three children develop a friendship quickly. However, Luca and Giulia form a very tight relationship, with Luca's fascination with seeing the world turning into seeing everything the universe has to offer. This isn't cool with Alberto, who quickly becomes jealous of the other two spending more time together. Will the three get along enough to win the Portorosso Cup? For that matter, will Luca be able to keep himself disguised long enough to even compete?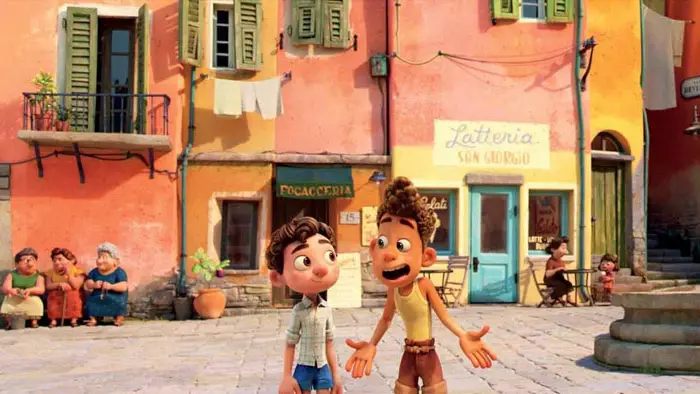 "…a young sea monster…wonders what life is like on the surface…"
First, let's talk about the plot of Luca. Although the story of sea monsters and humans has been done for hundreds of years in different variations, this is as refreshing as it comes. The moral that Disney/Pixar impart is that hate comes from older generations who teach the younger one their beliefs from a place of uncertainty and fear. The film says that a person should accept another based on their heart and not on what they look like or assumptions of who they are. It is simply about acceptance.
We all know that Pixar has a signature style of animation. Although this has that here and there, it actually looks different from their previous productions but is just as eye-catching as the rest of their oeuvre. The landscape and seascapes are beautiful, and although I have never been to Italy, it does capture the beauty of what I've seen in books and other films.
As good as all that is, I do wish there were more time spent underwater. Most of Luca is spent on the surface, so the sea life of Luca and his family is quite limited in screen time. One could only imagine how many more different creatures/species the animators could have made if there were just a few more scenes under the sea. This is a case of me being greedy and wanting more, so it isn't much of a big deal.
Luca is the best film that has been released on Disney+, and I am sure that it will remain one of Disney and Pixar's finest films for years to come. It is sweet, engaging, and has a great message. So what's your excusing for not having watched it yet?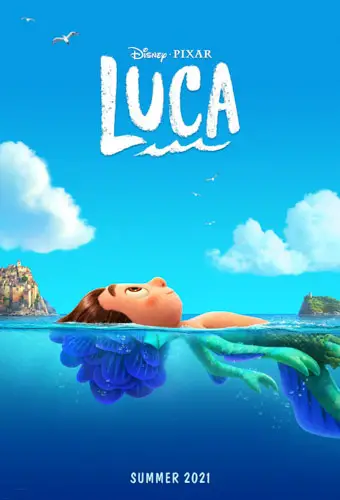 "…sweet, engaging, and has a great message."