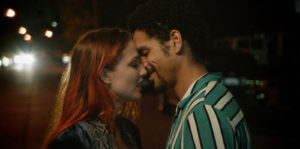 Feel the chilling glow of icicles within your brain in director Curtis Anthony Williams' superb indie dark drama Last Weekend. It's Friday night in Los Angeles, and Sylvia (Virginia Rand) has met Ethan (Charlie Barnett) on the dance floor of a nightclub. They share a smoke, and Sylvia does a key bump of cocaine before offering some to Ethan. It's not Ethan's usual thing, but as it is his last weekend in L.A. before moving to Detroit, he decides to cut loose. He walks Sylvia back to her place, and they end up hooking up.
The next morning, while asleep in bed together naked, Ethan is awakened by a glass picture frame being smashed over his head. Sylvia's jealous sorta ex Harrington (Hunter Morton) had broken in, and they threatened him with the police to get him out. After Ethan gets stitches in his forehead by a nurse (Ashley B. Smith), Sylvia promises to make it up to him. They blast away Saturday afternoon, doing one line of cocaine after another, bonding deeper as the numbness accelerates. Sylvia keeps getting calls she ignores while getting higher, but the phone keeps ringing. Finally, she answers it, and her mother (Cheryl Burns) screams hysterically. Something horrible has been sent to Sylvia's mother, grandmother, and many other people she knows.
The criminally underrated author Chester Himes used to write great short stories like "Razor Fight," where a simple night of drinking on the town escalates into dire situations with no way out. They examine an invisible tightrope that is walked by the characters, especially women and minorities, while getting intoxicated, where one wrong step can send them to their doom. This tradition carries on in the excellent screenplay by Williams and star Rand, who give us a guided tour of the tiger traps of Los Angeles drug culture.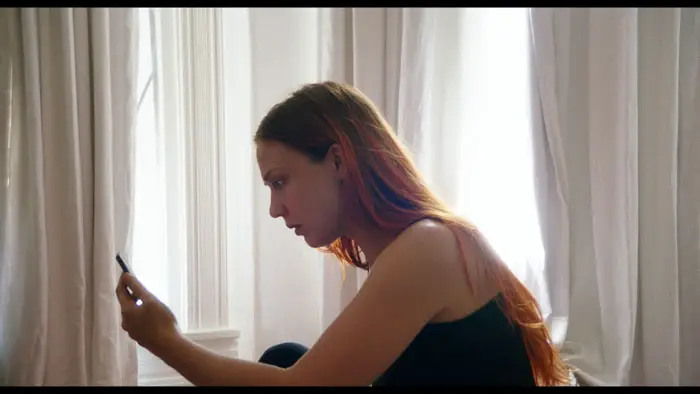 "The rhythm of the cocaine interaction rings true here."
The rhythm of the cocaine interaction rings true here. These two have a sniff here and there while riding the attraction before eventually descending into sitting in a room for hours, snorting and jabbering nonstop. There is also special care of detail on how the initial chemical release from inhibitions allows increased personal connection, which then explodes into a Roman candle that spits up split-second revelations. Rarely have the spreading dark roots of the Southern California F**k Up Tree been traced with such clarity. Here, we find a blinding spotlight on the plummet from the tightrope that comes from the wrong drug at the wrong time. The story hits that gritty sweet spot of thriller realism, where we have a serious drama set in the emotional extremities of the underside of civilization.    
Williams' makes wonderful use of throwback methods that harken back to the 70s Hollywood New Wave period. Most of the takes are long, lasting several minutes with no cutaways or angle changes. This allows the actors the time to maintain the energy of their performance instead of it being pasted together from a million little pieces. Barnett shines bright in several of these sequences, as he gets to show quite an emotional range. Interestingly, the more cocaine is consumed onscreen, the more the shots get much shorter with frequent cuts. The unconventional electronic score by Luke Morse is magnificent, as its ambient undertones sneak in to accent the mood perfectly.
The supernova in the room is the show-stopping performance by Rand. Already hot off a  role in the cult sensation Candyland, Rand's work in the lead is one for the ages. So many L.A. people will recognize her version of the ghost in the bathroom mirror. The smartest actresses out there are the ones who write their roles, and Rand is wicked smart. The dimensions she builds and maintains with Sylvia keep breaking all possible preconceptions. Rand will be a force forthcoming in both the acting and writing arena. The depth of drama generated motors this past being a mere drug movie. Last Weekend is an insightful and poignant portrait of partying on the edge.
For screening information, visit the Last Weekend official website.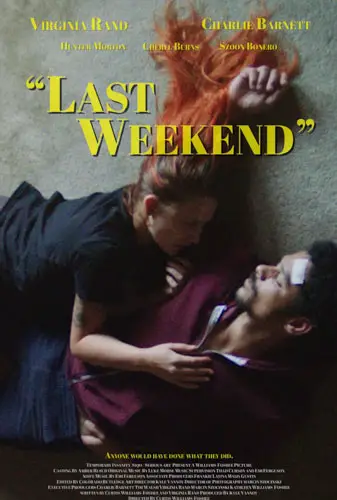 "…an insightful and poignant portrait of partying on the edge."