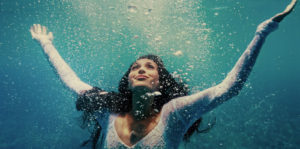 When a film combines science and fantasy while connecting to the psyche, a certain beauty emerges, allowing all watching to surrender to the unknown. Movies like this allow audiences to accept just being and existing. Writer-director G.B. Hajim's Mermaid's Lament connects myth and existence, executed with beautiful underwater footage and imagery while providing a story many can understand, even if a mermaid is not your character of choice.
Perhaps a mermaid is a mystical, fantastical figment of the imagination. However, Oee (Dayva Summer Escobar) is a mermaid, and her love of water, the sea, swimming, and her connection to nature is known from the onset. The character says very little and is more of a siren communicator. As a creature of nature, she is also a protector, cleaning up trash and debris in whatever space she is swimming or moving about. Her needs are simple, and her free-spirit love is eminent.
Hajim provides a real-life mermaid transformation to the land when the sea, reefs, and ocean barriers batter Oee. She is cut up, bloody, and washed ashore with feet, having lost her tail. Discovered by Dr. Nell Jamison (Justina Mattos), who wonders how Oee can exist and why she thinks of herself as a mermaid, she connects to her silenced voice and psychological issues. Yet, in her bare and simple, almost primitive, but beautiful existence, Oee transforms Nell's life. Nell is a woman of purpose who cares for herself with routine. As a psychiatrist, she does her work methodically. Yet, Nell lives alone and with little emotional engagement, though she is intelligent and aware. This is partly due to Nell's haunting and unresolved past, especially with her mother, whom she lost early in life.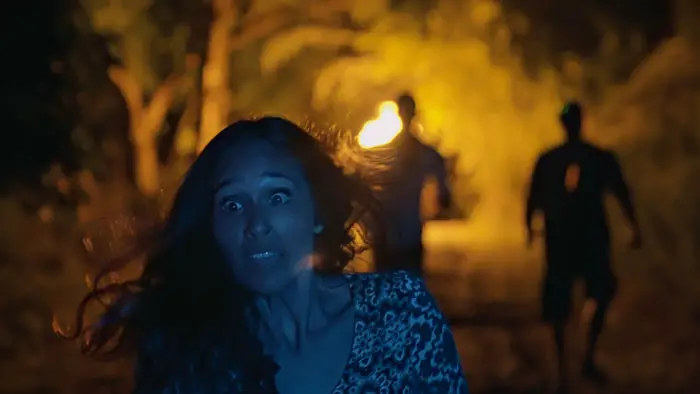 "…wonders how Oee can exist and why she thinks of herself as a mermaid…"
Water, flowing, floating, and circular imagery are symbolic throughout Mermaid's Lament. The blocking and cinematography provide a layer of interest to Oee and Nell's relationship. Nell bonds to Oee as a doctor and then as a person, changing her life for the better, allowing for healing and freedom from past pain even though she seeks to debunk her patient's mermaid existence. Nell's emotional release is heartfelt, especially with the incredible underwater camera work and seascapes that Hajim has perfected and a well-executed sound design.
Oee's primitive state is beautiful and naïve, causing chaos for Nell but offering a much-needed new perspective. Nell narrates her findings and discoveries, treating Oee as a patient and then as someone who transforms into an essential healing relationship. The actors share a chemistry that helps ground everything, even the more outlandish parts. Esconar's silent movie antics are sweet and genuine. Mattos is tough-as-nails, but her desire to help others is never questioned.
As a resident of Hawaii for 30 years, Hajim's love for his home and land resonates throughout Mermaid's Lament. This passion is mostly represented by Oee, who appears as a metaphor for Hawaii to love unconditionally but to respect its place and existence. And Nell is another metaphor for a world that can change its ways if provided the path to follow. Well-acted and beautifully presented, Mermaid's Lament is an enjoyable watch.
For more information, visit the official Mermaid's Lament site.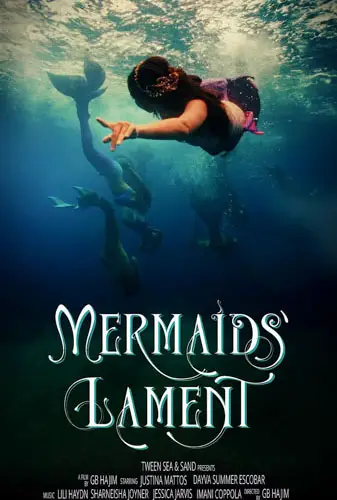 "…resonates...enjoyable..."