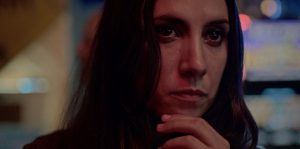 Annika Marks showcases herself as a force of nature as the star and writer of the dramedy Killing Eleanor, directed by Rich Newey. The film isn't above embracing tropes and suffers from a few contrivances, but the sheer force of the two lead performances and the script's sharp zingers and poignant footnotes propel it along. You may be familiar with terminal illness/road trip/buddy movies, but it's probably been a while since you've seen one actually pull it off in such an elegant way.
Marks plays Natalie, a hopeless addict, unable to stop lying about her self-destructive habit to her despairing family. When the elderly Eleanor (Jenny O'Hara) barges into her life, claiming that Natalie owes her, and she's "here to collect," our heroine is bewildered until she remembers, through a drugged haze, working for Eleanor at a lavender farm. She consequently stole money from the older woman, and even left her an IOU note. But, Natalie is shocked when Eleanor reveals that she doesn't want to be paid back. Instead, Eleanor wants Natalie to help her die.
Eleanor ends up at a hospital, and Natalie ends up badly in need of a urine sample. A symbiosis of sorts occurs, wherein the two help each other out before embarking on a journey to, ahem, kill Eleanor. The woman is in a rush to "have it finished by tomorrow… Sunday at the latest." Along the way, we meet Eleanor's estranged son, Henry (David Eigenberg), receive help and drops of wisdom from a kindly stranger, Anne-Marie (Camryn Manheim), and so forth. All the while, Natalie keeps lying to her compassionate mom, Martina (Jane Kaczmarek), distracted father Edward (Chris Mulkey), and fed-up sister Anya (Betsy Brandt).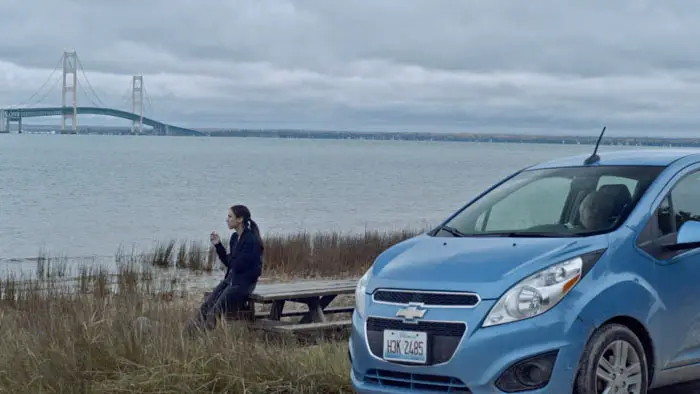 "…Eleanor wants Natalie to help her die."
Overlook the hard-to-swallow and somewhat controversial central premise, frequent moments of déjà vu, saccharine sentiments, and questionable soundtrack choices, and – akin to polishing a rough diamond – Killing Eleanor begins to glow. Natalie's "family meeting" perfectly encapsulates the dysfunctional dynamic in just a few minutes. An encounter with a gullible young man who provides Natalie with a fix strikes a painful chord. Marks and Newey nail the small moments: the family dynamics, the harsh bond of siblings, the perils of addiction, true friendship, etc.
As corny as that last aspect may sound, Marks and O'Hara manage to make it poignant. The latter sears the screen, bitingly sardonic, emotionally raw, switching between bitter and sarcastic – and, in one particularly wonderful moment, playful (it involves pretending to be someone else over the phone). The former more than keeps up with the stalwart. Their chemistry would've made Marie Curie proud.
Boasting a formidable cast and a keen eye for detail, Killing Eleanor makes it easy to forgive its flaws. Marks deserves major props for making an old story seem fresh again. Here's hoping her next tale won't be so old.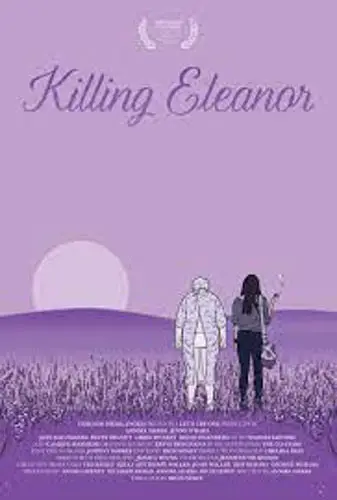 "…deserves major props for making an old story seem fresh..."