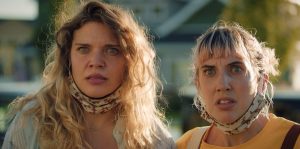 Art has always been seen as a method with which to hold a mirror to society in an effort to make sense of our world and, by extension, our place in it. It should come as no surprise, then, that movies, books, television shows, and other forms of art should start to critically address the COVID-19 pandemic as a means of coping with the hardships and pain that scores of people across the globe endured. Of course, the COVID-19 pandemic was (is) an especially painful and tragic episode in history and worthy of dramatic examination. But if there could ever be such a thing as a "COVID comedy," then Stop and Go (previously titled Recovery) could serve as the standard.
The movie, directed by Stephen Meek and co-star Mallory Everton, makes the crucial decision not to make COVID the focus. Instead, it is the backdrop for a rather ordinary road trip comedy. As a result, the audience is spared much of the solemn moments one might expect when dealing with a deadly illness. Instead, viewers are free to enjoy the outstanding comradery and comic energy that Everton and co-star Whitney Call exhibit throughout this brisk diversion.
Stop and Go opens as Blake (Everton) and her sister Jamie (Call) catch up at Jamie's 31st birthday party. The night is revelatory, and it seems as though the good times will never end. Cut to Blake and Jamie sitting on the couch in the house that they share in Albuquerque. The two appear depressed and grimy, a side effect of the harsh lockdowns that persisted throughout much of the pandemic. Recalling how many of us felt in the first few months of the pandemic when information was scarce and, if available, often unreliable, the women live in constant fear of contamination.
When Jamie comes home from grocery shopping, Mallory sprays her down with disinfectant spray, then douses the groceries. Jamie tosses her outside clothes into a hamper earmarked for clothes that need to be disinfected, then proceeds to change her outfit. So many of us assumed a variation on essentially the same rituals during those terrifying first few months of the pandemic. Then the women receive a letter from their grandmother's nursing home in Washington State: apparently, there has been an outbreak of COVID-19 in her home. The sisters are strongly encouraged to come and retrieve her before it becomes widespread, which it almost certainly will.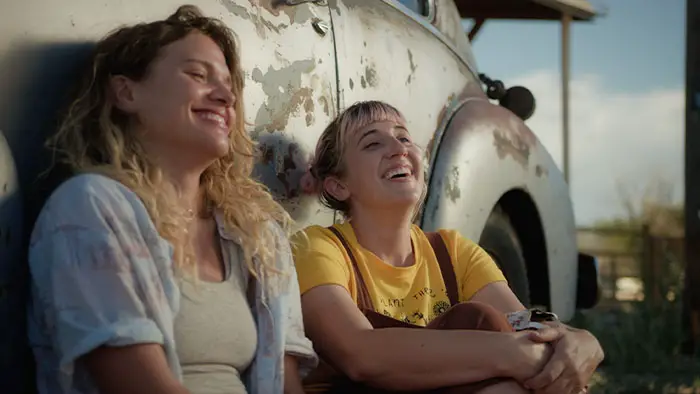 "…road trip from New Mexico to Washington to save grandma…"
The ensuing road trip from New Mexico to Washington to save grandma comprises most of the story. The sisters act goofy in the way that only close-knit sisters can, chat about a guy named Scott (Noah Kershisnik), who Blake met just days before lockdown, and endure frequent calls from Mrs. Harper (Jessica Drolet), the concerned mother of one of Jamie's students who is pissed about her son's seemingly inappropriate relationship with her.
Everton and Call are revelations. The two actresses, who also wrote Stop and Go, are extraordinarily expressive and work off each other brilliantly. Everton displays comic instincts on par with vintage Goldie Hawn, and Call brings to mind a young, quirky Sally Field. It is a testament to both women that the audience never gets bored with them.
The movie moves at a generally brisk pace, notwithstanding a strange episode involving a weird guy in the desert who is watching over the grandmother's beloved Bernese Mountain Dog. But, as it rolls about cheerfully on its voyage through the American west, audiences will constantly be smiling.
Stop and Go ends up as you expect it to. Some treacly bits rob the movie of its honesty and compromise its goodwill with the audience. But for the most part, it's a joyous celebration of life and family, as well as a reminder that both will persevere no matter how trying the circumstances.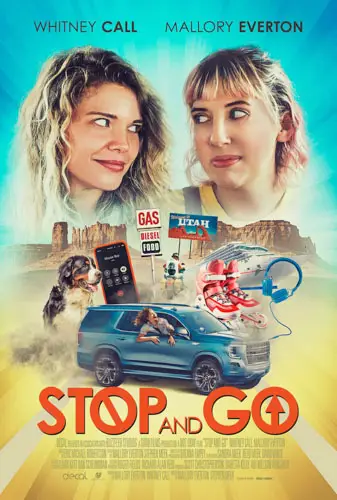 "…a joyous celebration of life and family..."