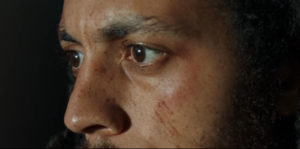 CANNES FILM FESTIVAL 2023 REVIEW! The pitfalls of self-expression through political assassination are on display in writer/director Musa Alderson-Clarke's provocative and gritty short Killing Boris Johnson. Chas (Shadrach Agozino) is falling apart over the suicide of his mother. Suffering from seasonal depression, she counted on family gatherings during the holiday to get through. However, when Prime Minister Boris Johnson declared a lockdown in December 2020 and banned all get-togethers, Chas' mom took her own life. He's enraged because while his mother died and he was in isolation, Johnson secretly held his own private Christmas party, violating his own rules.
So now Chas has decided to kill Boris Johnson. There is an event at a children's school the prime minister is scheduled to appear at, and he plans to go there and shoot him. Unfortunately, Chas soon discovers that there are no gun shops in England, so he is at the mercy of whatever homemade goods are available on the black market. His sister, Maia (Jesse Akele), tries to reach out to him, but Chas won't let her into his flat. That may be because she would see his rubber Boris Johnson mask, the one that Chas puts on at night and looks in the mirror while punching himself in the head.
The frustration of the decisions made for you gets an escapist valve through dreams of dead monarchs and legislators. Killing Boris Johnson engages in this impulse but also shows how futile it is to dare follow it. Alderson-Clarke's script walks the same path Taxi Driver does, except the concept here walks a little further. The filmmaker first sets up the emotional reason that Johnson is targeted for slaughter. Then, by bringing it from the political to the personal, the short connects the viewer to Chas's emotional state instead of keeping him behind glass in an insane aquarium.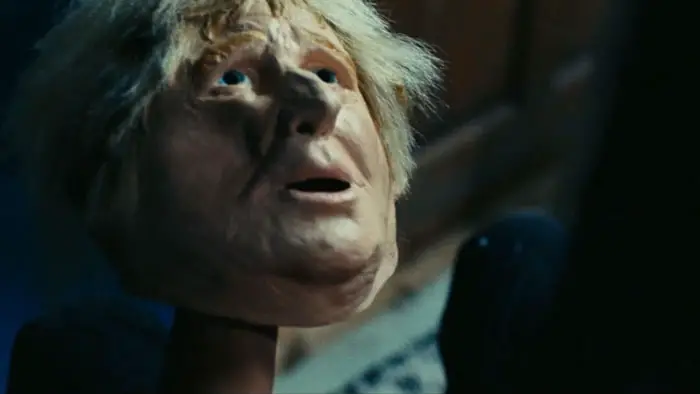 "…Chas has decided to kill Boris Johnson."
This also allows Alderson-Clarke to explore the emotional agony of loss from suicide through excellent expressionistic set pieces that comment on vengeance. One particularly vivid example is Chas attacking himself wearing his Boris Johnson mask. His fury is directed outwards but is only causing him harm. This is crystalized in the squirm-inducing climax, which is thankfully left ambiguous.
Agozino gives an outstanding performance, pulling off the challenging trick of giving us relatable alienation. He slowly boils the watcher in his craziness instead of letting loose with a full-throttle nutter. Akele provides a well-grounded counter-balance to ensure everyone isn't heading down Derangement Lane.
The production quality is excellent and very polished. It manages a lot of grit without getting pulpy, making the intensity of the viewing experience all the more genuine. Alderson-Clarke's got the directing skills to pay the bills while also sporting fresh storytelling talent. Killing Boris Johnson will drop jaws and land inside your mind like a bolt of clever lightning.