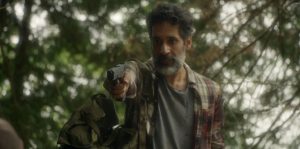 Just because you're paranoid, doesn't mean they aren't after you. Joseph Heller's sentiment from Catch-22  is an important caution in the world of Joe Zanetti's Killbird. 
An attractive young photographer breaks down in the middle of the woods in backcountry Oregon. Taylor (Elysia Rotaru) comes for a day of taking pictures of birds that make up her professional portfolio of images. 
Looking for help after the car stalls, she happens upon the cabin of Riad (Stephen Lobo), a paranoid conspiracy theorist, who assumes she's a government agent. He is not entirely sure, so he agrees to drive her into town, but she must listen to his story first. He tells her he has no phone and no way to contact the outside world.
It would be easy to write off Riad as a garden-variety lunatic as he spins out tales of assets and black ops, and how the government orchestrated 9-11, and how they killed his brother. Hiding away from the world in his cabin, he seems a weak, disturbed man. However, Riad has secrets of his own… his simple, low-tech cabin in the woods has ultra-sensitive sensors and alarms. Taylor later discovers he has a data center with satellite phones in the back of the cabin, and most alarming, he has a man locked in a cell he claims is a government assassin who was sent to kill him.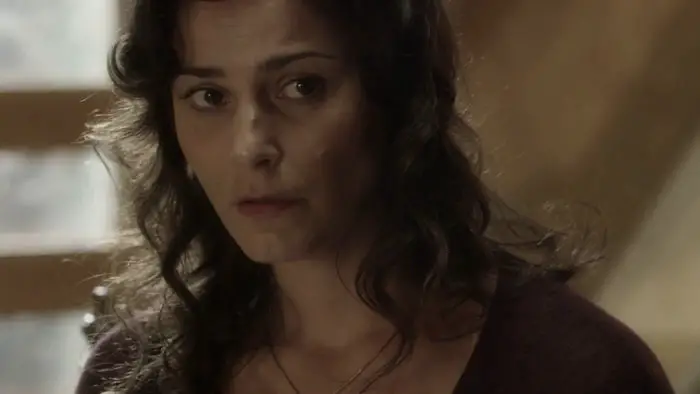 "…It would be easy to write off Riad as a garden-variety lunatic…"
Taylor, herself, winds up tied to a chair under interrogation by Riad, as he tries to verify or break her story about her coming to his location randomly.  As a mailman shoots down the door to the data center and begins destroying machines and data, Riad has his darkest suspicions confirmed.  
Zanetti has created a nightmare scenario reflecting fears that many people these days believe are true: shadow governments and spies, operatives bugging every communication, the state manipulating all forms of media. We know for a fact some of this happens, but the notion of it being this level of all-in conspiracy-theory convoluted is a step too far. 
It does make for one hell of a ride as a movie, though. The tight thriller keeps you guessing right up to the last moment… and perhaps even beyond that. If you're a Battlestar Galactica fan, you'll recognize a couple of welcome familiar faces: Tahmoh Penekett and Aaron Douglas make appearances. 
Killbird screened at the 2019 Dances With Film and is now available to stream on Video On Demand.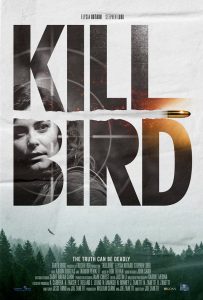 "…one hell of a ride as a movie..."