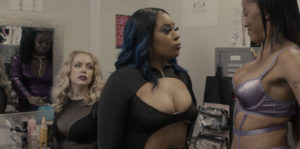 "Just go for it." That's what I'd tell indie filmmakers with no money for their movies. Take whatever is available to you and hold nothing back in your storytelling. That's exactly what writer-director Omegia Keeys' did with her erotic killer-thriller, Keeping Secrets.
On the rough streets of Atlanta, strippers are being murdered by a sadistic masked serial killer known as Mister X. With little to work with, Atlanta PD recruits Sam Walker (Bridgetta Bentley), a disgraced street cop, to solve the case. Working with local strip club owner Erica (NaTasha Eli Pearson) and her ex-detective head of security, Vincent (Dean Khandjian), the out-of-her-league Sam is brought in undercover as a new dancer to flush out Mister X.
Mister X holds a particular disdain not just for strippers but those who moonlight as escorts as well. The killer lays a trap by inviting girls to "parties," then tortures and butchers them. His killing style is to focus on what is fake about each victim, whether it's their implants or contact lenses, and rip them out with his creepy collection of surgical equipment. As more girls wind up dead, Detective Hastings (Donte Walker) is furious he has to work with the inexperienced Sam. But desperate times call for desperate measures, and Sam is forced to compromise herself physically, emotionally, and professionally to find Mister X.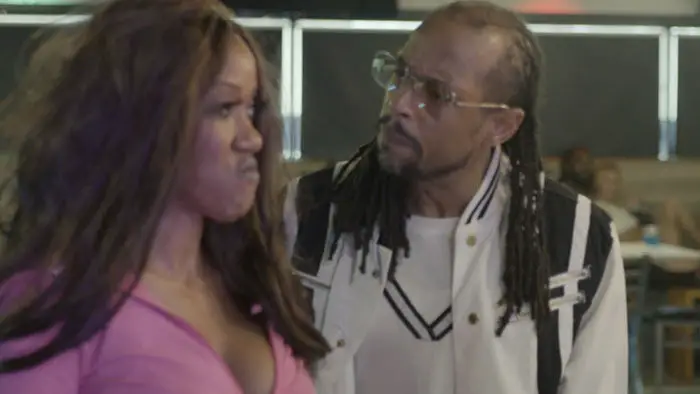 "…strippers are being murdered by a sadistic masked serial killer known as Mister X."
From the start, you'll discover that Keeping Secrets is a low-budget thriller. It has subpar sound, a lack of lighting, and all the sets are makeshift. To compensate for the lack of resources, Keeys focuses on a sexy story of strippers and serial killers. It's a melding of the TV show Silk Stalkings with the classic serial killer movie Seven.
Bridgetta Bentley is perfect as Sam. She's charismatic and sexy when need be. Bentley is also equally brutal when the situation calls for it. In fact, this is evident right away as the film starts guns blazing as the undercover cop busting some drug dealer's a*s. The brunt of Bentler's dramatic performance is her balancing Sam's inner turmoil between being a cop and her role as a stripper/soon-to-be-escort. She is uneasy with this moral dilemma, and the actor sells that anxiousness well.
Though Keeping Secrets starts with great action, it kicks things up a notch with its sadistic killer. Mister X's kill room is bloody and gory as he tears out his victims' breast implants. The sets are messy. The screams are blood-curdling, and the blood flows freely. The costume design of the depraved killer is just as ominous. He's dressed in a black hood, dons a terrifying mask, and is equipped with a sinister voice-changing device. Keeys also gives this murderer a great deal of dialogue. Plus, as pointed out, Mister X "evolves" throughout the film.
The lesson to learn from Keeping Secrets is never to let your lack of money and resources limit your storytelling. Omegia Keeys holds nothing back. Now's the time to support a new emerging filmmaker. The strong story and over-the-top hero and villain mean this is a must-watch on your streaming list.
For screening information for Keeping Secrets, visit the AF Media Productions website.