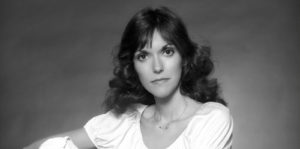 SANTA BARBARA INTERNATIONAL FILM FESTIVAL 2023 REVIEW! Karen Carpenter was a woman who died embattled by her fears in the form of anorexia nervosa. Like so many gifted musicians, singers, and songwriters who die too young from addiction, Carpenter's drug was a self-induced condition, which too few knew too little about in her time. However, even in the unknown depths of her struggle with her eating disorder, Carpenter produced long-lasting songs with her unique velvet, creamy voice. Director Randy Martin captures all of Karen Carpenter in the unforgettable Karen Carpenter: Starving For Perfection.
At the outset, the filmmaker establishes a decade of music and culture The Carpenters, Karen and her brother Richard, uniquely made their own. The duo's distinct style of arrangement and harmonizing spanned 14 years and ten albums with a bevy of single hits and loads of television appearances and specials. Although the documentary's underlying purpose may be a PSA on stardom and eating disorders, some lingering unanswered questions suggest Carpenter's anorexia was not just about image and the need to be thin, even though that is the price of fame and exposure when talent is so great.
Karen Carpenter: Starving For Perfection is an archival buffet of The Carpenters, their family, performances, appearances, and work sprinkled with interviews from several friends who are all celebrated writers, musicians, and artists. The late Olivia Newton-John was a very close friend to Karen Carpenter and regrets never recording with her. Carnie Wilson of Wilson Phillips, an executive producer of the film, tells it like it was and gives a voice for why we lost such a talent such as Karen Carpenter at 32 years old. Appearances by Cynthia Gibb, Suzanne Somers, Kristin Chenoweth, Bob James, Carol Burnett, and Belinda Carlisle offer more insight.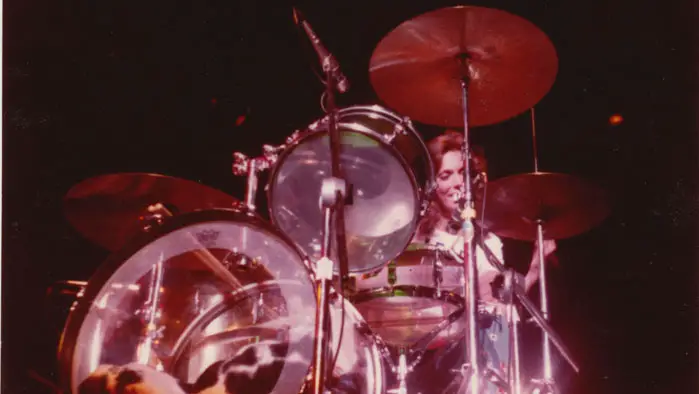 "…why we lost such a talent such as Karen Carpenter at 32 years old."
However, the still-alive Richard Carpenter never weighs in. However, the film reveals that he was the golden boy, and as close as the siblings were, she harbored a never-ending battle, never succeeding or achieving perfection like him. In addition, Gibb adds haunting details about how the television film in which she played Karen was made. They shot at the Carpenter's actual house. Richard Carpenter had a relentless attention to detail while the actor's wardrobe was original pieces worn by the beloved singer. The thing is, the clothes kept getting smaller and smaller to the point the camera had to shoot only one side of Gibb because she couldn't zip the clothes.
Karen Carpenter: Starving For Perfection reveals a woman in perhaps stunted or in arrested development with her stuffed animals and Mickey Mouse t-shirts. It's as if she had to skip many of life's passages or was just not loved enough by her battleax mother. Yet, the songs never stopped, and Carpenter was always on cue to perform no matter how tired she claimed to be. She played drums and sang, a talent very few can do. The amount of accomplishments she achieved in only 32 years is astonishing while rolling with change and acceptance.
The film moves through a journey, yet it leaves the door open for many questions on understanding Carpenter's career and The Carpenters' discography. The most surprising of all is a Christmas album, which is as popular as ever, even today. Songs like "Close to You," "We Only Just Begun," "Rainy Days and Mondays," or "Top of the World" are a window into a time that no longer exists but is captured so well by Carpenter's voice and presence.
Karen Carpenter: Starving For Perfection dives into the performer and artist whose voice and feeling are the mood of her time. It flows from one interview to the next seamlessly, whether it's a celebrity, writer, or friend. The segments never overpower each other. Instead, Martin adds layers and layers of understanding to Karen Carpenter, a woman who left way too soon.
Karen Carpenter: Starving For Perfection screened at the 2023 Santa Barbara International Film Festival.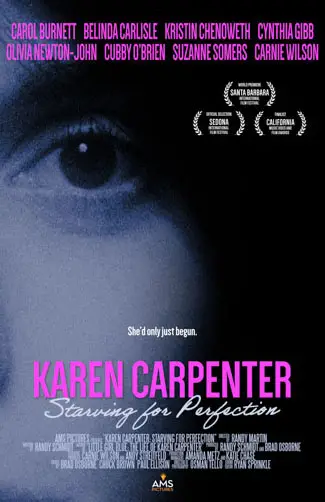 "…adds layers and layers of understanding..."