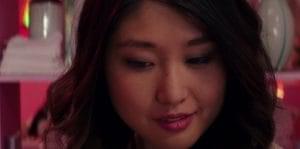 It is rare that a film is so well-executed, that even multiple language barriers with no subtitles don't stand in the way of the clear conveyance of the narrative. With a cast ranging from Korean, Chinese, and American players, a simple nail salon becomes a brewing pot of contrasting cultures and micro-dramas worthy of a soap opera, (though wonderfully without the associated cheese). In Joy Joy Nails, Joey Ally manages a taut story, bubbling with raw emotionality, and possessing utterly engrossing visuals, and a fine-tuned editorial sense.
Sarah (Kahyun Kim) is a (just recently) promoted manager at the salon Joy Joy Nails. While she manages the majority of the staff with a firm but friendly disposition, tensions rise and as she clashes with the manicurist trainee Mia (Yi Liu) over their boss's son Matthew's (Tae Song) affections. Though she soon discovers not everything is as clear-cut as she believes it to be, with serious implications as to the salon's hyper-toxic work environment fermenting just beneath the surface.
"…tensions rise and as she clashes with the manicurist trainee Mia over their boss's son affections."
The initial overall tone of the film strikes deep in the vein of Sofia Coppola meeting Wong Kar-wai. This resonance is due to the heavy focus placed on minute details subtextually constructing each character's personality, all the while life swirls on around them, oblivious to their lives. No interaction or reaction is forced or kitschy; yet the visual world that this film is set has copious emphasis placed on style, denoting a daydream-like quality (and so much pink) to the story.
While T.J. Williams Jr's cinematography has crafted a visual treat, including one seriously impressive establishing tracking shot after entering the salon; blending camera involvement, blocking, and the ins and outs of the location so well, that it honestly could not have been done any other way. This impression is further intensified by Adam Thomson's concise editing, whose continuity and established rhythm keep constant the rising tension within the plot, and the emotional and social connectivity between the characters. This all is highly responsive of Ally's finely attuned directing; everything just seems to fit, and makes all other associated elements that much stronger as a result.
While the plot has been played out through similar channels before, the filmmakers keep the subject fresh through their unique perspective, craft, and powerful leading cast. Each filmic aspect elevates the other, and the experience as a whole is thoroughly fulfilling. Joy Joy Nails is a short film that bodes ebulliently well for its filmmakers' futures in the medium and is a solid enthralling piece of stylized emotional reality.
Joy Joy Nails (2017) Directed by Joey Ally. Written by Joey Ally. Starring Kahyun Kim, Yi Liu, Tae Song. Joy Joy Nails screened at the 2018 Newport Beach Film Festival.
9 out of 10