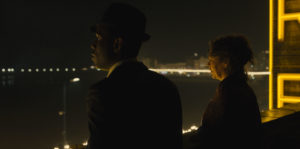 NOW IN THEATERS! Sam Mendes is a director with range. He can handle blockbuster epics like Skyfall as skillfully as intimate dramas such as American Beauty. With Empire of Light, the filmmaker – who writes and directs – clearly aimed to make his most personal artistic statement yet. A love story between two people, but also between people and cinema, the idyllic/melancholic result comes pretty damn close to achieving that goal.
Set in the early 1980s, in an English South Coast town, the film follows Hilary (Olivia Colman), a duty manager at the local movie theater. She bathes and eats dinner by herself. She takes dance classes. She sees a psychiatrist, who prescribes her lithium. She also fucks her married boss, Donald (Colin Firth), at work.
One day, a new employee shows up: a young man from Trinidad named Stephen (Micheal Ward). Hilary shows him the ropes. It doesn't take long for the two to start an affair. Just when things begin to verge on maudlin and predictable, Hilary's history surfaces, and Empire of Light attains depth and an unexpected accumulating tension. The racism that Stephen frequently encounters is juxtaposed against Hilary's plight: a history of abuse, male toxicity, and schizophrenia. Will these two lost souls find solace in each other? Or, perhaps, in cinema?
Life isn't that simple. Mendes finishes things on a graceful, open-ended note. He adeptly handles unabashed romanticism and raw grief, optimism and hopelessness, significantly aided by Atticus Ross and Trent Reznor's soft piano score. The music peaks during the film's most fervent moments, both violent (a protest during the climax) and tender (our heroes climaxing in each other's embrace). The great cinematographer Roger Deakins similarly captures both the breathtaking beauty and the desolation of the L-shaped town, grey waters lapping away at its shores.
"…a new employee shows up…Hilary shows him the ropes."
Of course, without Colman, this entire empire may have collapsed under its own weight. She buoys the proceedings with her charm, elegance, and razor-sharp wit. "Dead body," she deadpans early on, when asked about the weirdest thing she's ever found in a theater. "I do feel a bit… numb, I suppose," she tells her doctor during a routine check-up. Colman allows the viewer in before rupturing their impression of the character. She gradually adds complexity and depth that make Hilary's motives more enigmatic and ultimately affecting. Witness her breakdown at the beach about men and marvel – Colman can do it all.
Empire of Light isn't short on movie magic. Hilary encounters Donald and his wife while dining alone in a restaurant. Stephen discovers an entire second floor of the cinema, all forgotten, decaying beauty. "Another world," he stammers. A lovely sequence sees projectionist Norman (Toby Jones) introduce his meticulous craft – these days now long gone – to Stephen. A feverish moment in Hilary's apartment, as her door is about to be bashed in, could serve as a lesson in filmmaking.
However, some scenes are more on-the-nose than others. For example, the whole "taking care of the wounded pigeon" subplot is a bit stale, as is the painfully extended sequence of Stephen glaring at a racist man as the latter slowly finishes his chips. But then there's that Chariots of Fire premiere sequence, a perfectly-orchestrated string of events, wherein Hilary recites a poem to a confused audience. Then she admits to her affair to a confused wife.
Mendes throws a retrospective glance at a past that was both more innocent and brutal. He sets the events against the backdrop of a turbulent regime ("Thatcher; skinheads in Brixton") that was particularly hard on people of color. It's in the theater that people sought refuge from the horror of everyday existence. A whole bunch of "complex machinery" emitted that one magical ray of light, producing an immersive "illusion of life." With Empire of Light, Mendes offers a similar, brief but delightful escape from reality.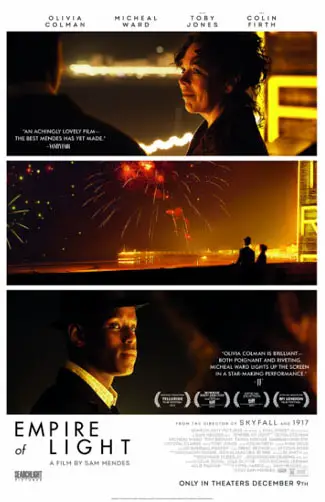 "…delightful escape from reality."