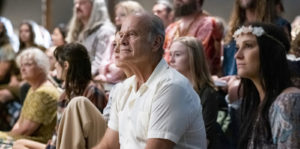 When I compare Jesus Revolution to other faith-based films, I appreciate that there's only one miracle in the film: the miracle of a changed life. There are no supernatural healings (the third act addresses this) and a trust that God will provide for the church's and the congregation's needs. I suppose you could ask today, what changed? I'll say this. It wasn't God who changed. Okay, sermonizing over.
Erwin and McCorkel dramatically document the beginnings of one of the greatest Christian revivals in the last century. The filmmakers highlight the looming conflict between Chuck and Loonie, who had an almost unnatural relationship with God with a distinct vision of what the church should do, warts all. The way it's presented kept me invested.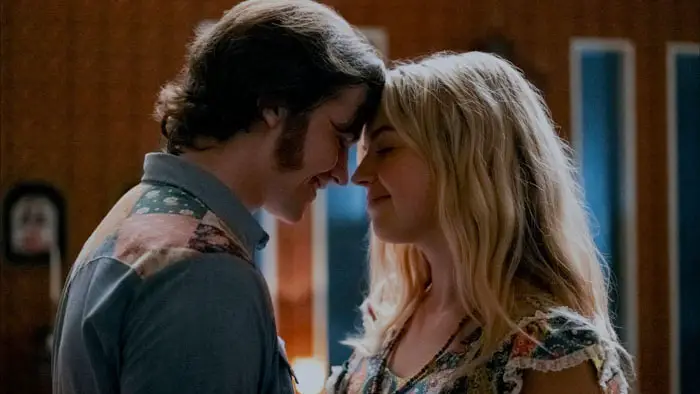 "…one of my favorite faith-based Christian movies…"
Grammer does justice to Chuck Smith, the stodgy old pastor who puts his faith and reputation in a young upstart to revive his church. Jonathan Roumie, who played Jesus in The Chosen franchise, nails down the complexity of Lonnie. Joel Courtney and Anna Grace Barlow are downright adorable as Greg and Cathe. They believably show what happens to lost people when they find Christ as their savior and then put their faith in Him and others to make a difference in the world.
Jesus Revolution is one of my favorite faith-based Christian movies, of which I've seen more than my fair share. I associate three things with faith-based films: bad acting, an outrageous, overly positive message, and a shoe-horned sermon. Thankfully, this film avoids all three elements. Most importantly, it feels authentic to my personal experience with Christianity. The film is all these things without being preachy.
Elements of the Gospel, faith, and forgiveness are sprinkled throughout Jesus Revolution. But there is no straightforward message of Salvation or alter call at the end. It's simply the story of the beginning of pastors Chuck Smith and Greg Laurie and their ministries of Calvary Chapel and Harvest Christian Fellowship. It's also a story of changed lives, which to me, is the true Christian message. Believe me, old-school Bible-belt Christians will hate this film because it doesn't condemn sinners at all.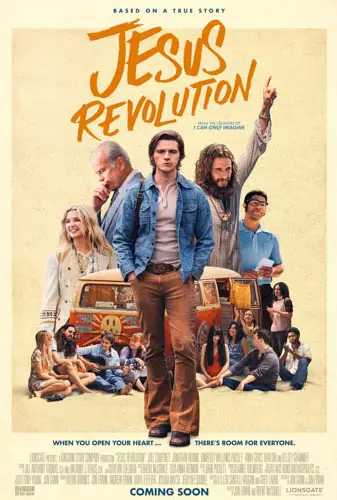 "…feels authentic to my personal experience with Christianity."