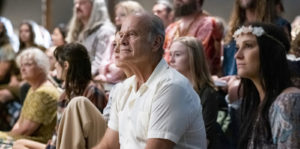 As a million thoughts swirled through my head, the loudest one was shouting that I had to review directors Jon Erwin and Brent McCorkle's feature film, Jesus Revolution. The screenplay by Erwin and Jon Gunnis is based on the book by Pastor Greg Laurie. I became an Evangelical Christian in the late 70s and lived in Southern California at the tail end of the Jesus Movement era this drama depicts, so I'm very familiar with the main players. For all intent and purpose, the film is the origin story of one of the largest Christian churches in Southern California, Calvary Chapel.
Kelsey Grammer plays Calvary's longtime pastor Chuck Smith (who passed away in 2013). In Orange County, California, Chuck humbly leads a small flock in a dwindling church. After a fight, his daughter, Janette (Ally Ioannides), storms off in a rage and runs into a hippie named Lonnie Frisbee (Jonathan Roumie). Lonnie delivers a message about Jesus Christ that she had never heard before, especially from her father. Lonnie's message was simply that Jesus loved the sinner, and no matter how much you think you ruined your life (particularly through drugs), there is hope in Jesus Christ.
"Chuck decides to give this hippie a chance by allowing him to preach at his church."
Chuck decides to give this hippie a chance by allowing him to preach at his church. Lonnie brought an unorthodox, casual, heartfelt message to the congregation and a full folk band, Lovesong, to bring modern worship music to replace the hymns of old. Let's just say that Lonnie doesn't impress the old guard, who threatened to leave the church penniless because… how much do hippies make exactly?
Jesus Revolution is also the story of Greg Laurie (Joel Courtney), a straight-laced teen on his way to the military academy at his parents' behest. Before entering, he meets Cathe (Anna Grace Barlow), who would change Greg's life with her hippie lifestyle and ample supply of drugs. After the near-death of their close friend, Greg and Cathe give Jesus a chance after attending one of Chuck and Lonnie's services.
I have mixed emotions about the film, all personal in nature. Suffice it to say, it brought me back to a time in history, including my own, when the spirit of God was moving through the young folk of Southern California, and Chuck Smith was one of the figureheads. So there's a true spirit and message of love and redemption here that I miss and haven't felt in a long time. And that's what I hope you take away. When life has beaten you down, and you have nothing left, there is hope in Jesus Christ.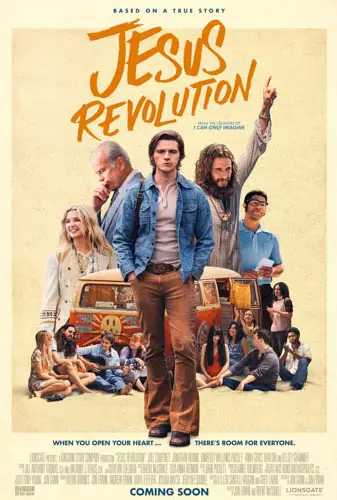 "…feels authentic to my personal experience with Christianity."