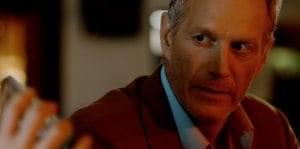 Intersection is a heartbreaking story of a man, Cobb Mills who can not recover from his daughter's tragic death six years earlier. A native of Los Angeles, he comes to the small desert town of Dusty Springs every year to revisit the site of the tragic car accident that killed her.
Cobb is as down on his luck as one can be, having lost his job and his wife not too long after the loss of his daughter. He exudes a bitter sadness to all he encounters. When he goes to a bar, where he is remembered by the garrulous bartender, Lou, he vows that this will be the last year he comes to town, because he's ready to move on. Of course, with the luck Cobb has, he ends up being stuck in Dusty Springs for three more days due to a busted fuel pump.
He notices on his way to his hotel room that someone had put flowers with his on the cross which stands at the site of the accident. Doris, the florist, informs him that it was her assistant Nash who left the roses, and then gives Cobb her address, which in real life would be a gross invasion of an employees privacy and not to mention illegal, but moving on…
"…a man who can not recover from his daughter's tragic death six years earlier."
Over the course of what must only be a day and a half, Nash and Cobb become some sort of a couple. Lou tells Cobb that Nash is too young for him…and she sort of is, to be honest, but Cobb is too taken with Nash to have any suspicions about her, which maybe he should have. Nash has problems of her own, which include an abusive ex-husband who's hunting her down for some money she owes him. Cobb is thrust in the middle of Nash's interpersonal drama while still dealing with plenty of his own. His ex-wife won't forgive him for his role in her daughter's death, which was simply driving the car in which she died.
Intersection is a pretty well-written drama that is heartbreaking at one moment and heartwarming the next. It is a little sappy, but there's nothing wrong with that if that's what you're in the mood for at the time. There's an incredibly cringe-worthy romantic montage that reminds me out of something in an 80's made for TV movie, which is the only part I rolled my eyes at a little too hard. The acting is hard to really describe because it's not horrible or wonderful, it floats around throughout the course of the film between both. Tim And Michael French made a clever meditation on guilt, forgiveness and second chances that would do perfectly well as a two-part episode of one of those early 90's late-night soap operas like Silk Stalkings, which I completely forgot existed until I saw this movie. It's safe to say that the French Brothers know how to tug at the heartstrings and that could bode well for them in their future.
"…well-written drama that is heartbreaking at one moment and heartwarming the next."
The setting of an oil town in the middle of nowhere (which is actually Taft, California),  is beautifully captured by cinematographer Ayan Pratap, and adds to the mood of desolation that Cobb feels for many reasons, up to an including being in the middle of nowhere. Something that's interesting and a little strange to me is that the score is very muted or absent until the previously mentioned cheesy romantic montage scene, which made it all the more embarrassing in my opinion.
The ending has a really great, if completely unrealistic payoff for Cobb and Nash. It ties up all it's loose ends and leaves the viewer feeling satisfied, if not completely mystified by how well things end up for everyone involved when the trajectory the film takes up to that point makes one feel as though that's definitely not what's going to happen. If anything Intersection has made me curious about Tim French's other work, which includes 2013's Setback and 2017's Reunion which stars Edward Furlong! In conclusion, Intersection is a great film for people who love romantic dramas with happy endings, which is probably most people, though some of us won't admit it.
Intersection (2015) Directed by Tim French. Written by Tim French, Michael French. Starring Hoyt Richards, Anabella Casanova, Johnny Williams, Bonnie Hellman, Scott King, Dawn Anne Billings, David Kagen.
6 out of 10 stars