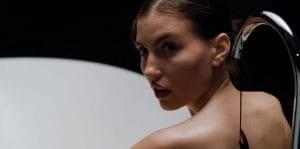 The art world possesses its share of demons. Underneath the celebrity of Andy Warhol's Factory lie lurid tales of mental illness and drug abuse. Jean-Michel Basquiat OD'd. Vincent van Gogh cut off his ear. Francisco Goya went deaf and painted nightmarish scenes in isolation. Even Michelangelo found personal relationships difficult, instead of using artistic modes of expression to connect with those he adored. One could extrapolate that the greater the artist, the less balanced the personality. All of this provides the foundation for Maria Alice Arida's brilliantly horrific short about the darker regions of art.
Isabelle (Christine Kellogg-Darrin), a solitary painter and gallery owner, opens the new work of cutting-edge performance artist Camila (Jordan Monaghan), a seductive tease who seems to know a lot about her host's past. She wants Isabelle to be the first to participate in her work. That night, Camila sits in a tub and connects the vein in her arm to the faucet. Isabelle turns it on and becomes mesmerized by the dripping blood. She turns it up more and watches the blood flow down Camila's back, then realizes what she's doing and stops the flow and run home. Later, the doorbell rings. Camila wants to know why she ran away. She seduces Isabella, setting off a chain of events that leads to one's demise and the other's blossoming.
"…connects the vein in her arm to the faucet. Isabelle turns it on and becomes mesmerized by the dripping blood…"
Stylistically, the visuals recall the last third of Pascal Laugier's Martyrs (2008), callous and frigid like the antiseptic art world it portrays. Kellogg-Darrin and Monaghan exquisitely dance in their performances, the former coming off as naïve and timid, whereas the latter confidently flaunts her sexuality while ultimately revealed to be the less savvy of the pair. The screenplay is impressive as well, alluding to mother issues and a dark past of self-mutilation beneath the more obvious story. There's a lot going on in this eighteen minutes.
Short films typically act as vehicles for the director. It's true in this case, but with all the other pieces hitting their marks so perfectly, the result has more in common with a feature despite being under twenty minutes in length. This one will resonate, and it won't be comfortable.
Instinct (2018) Directed by Maria Alice Arida. Written by Rosita Lama Muvdi and Maria Alice Arida. Starring Christine Kellogg-Darrin, Jordan Monaghan, Andrew Ableson and Stefan Byrd. Instinct screened as part of the Midnight Shorts competition at the 2018 Dances With Films.
10 out of 10 stars