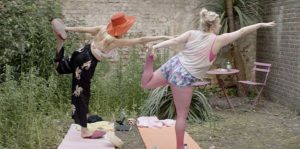 If you could think of two professions where a person would be least likely to "make it," poetry and acting probably spring immediately to mind. Those two jobs just so happen to be exactly what friends Celeste Blackwood (Greta Bellamacina) and Stella Mansell (Sadie Brown) want to do, respectively. Celeste is a single mother, and Stella often watches Celeste's son, Jimmi (played by Bellamacina's real son, Lorca Montgomery), when she has to run errands or visit publishers who will hopefully take her manuscript.
This is how we get to know the main characters in Bellamacina and Brown's script for Hurt By Paradise. Stella is preoccupied with an online relationship with a man named Roman, who lives in Margate, whereas the women live in Camden, London, England. She has never seen his picture and everyone, including Celeste, thinks she's crazy for continuing the relationship. Celeste is preoccupied with finding her father, who left her family at a young age. A lot of her poetry is about this.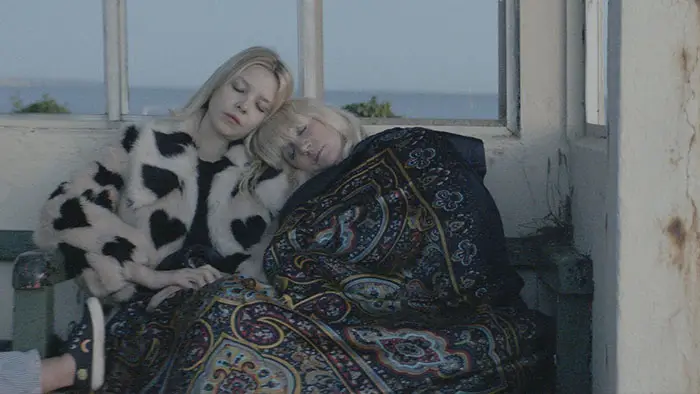 "Celeste is a single mother, and Stella often watches Celeste's son…"
One of the things that I like about Hurt By Paradise is how well we get to know the characters as they operate in their everyday lives. Any sort of "hi-jinks" does not happen here. I also enjoy that some of Bellamacina's poetry often accompanies scene changes, considering I have written poetry for many years myself. Greta Bellamacina is also a poet "in real life," so the words you hear spoken are of her own design. Bellamacina did have a hard time getting her poetry noticed by publishers, but she finally did. However, Bellamacina has acted and modeled for years as well. She is a multi-hyphenate who has proven to also be a great screenwriter, director, and producer.
Hurt By Paradise is a family affair. Bellamacina and Brown are friends in real life, and Bellamacina's husband and son are both in the film. It was made on a low budget with love, but you would never be able to tell. The cinematography by Fabio Paleari and Emily-Jane Robinson is of extremely high-quality. The sets are beautifully dressed by Cosima Bellamacina, Isabella Bruno, and Emily Kopaskie. Hurt By Paradise is a great London movie, showing the neighborhood of Camden and other landmark locations. It reminded me of my time spent there, which was awesome and before I had to deal with COVID-19, so that might be part of why I love it as well.
Simply put, Hurt By Paradise is a small film with a huge heart. It explores female friendships and how friends sometimes become our families. It shows us that hard work may not seem like it will pay off, but eventually, it just might. It shows us the things we want are sometimes definitely not what they seem. Most importantly, it tells us a hilarious, heartfelt, and beautiful story by Greta Bellamacina and Sadie Brown, who I hope do write another movie together again. You can actually see Hurt By Paradise in a theater in the United Kingdom, so go see it, Brits, take advantage of that privilege!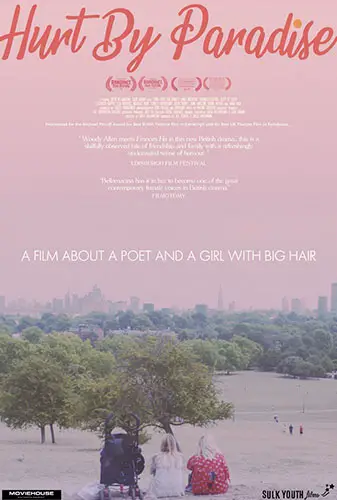 "…a small film with a huge heart."