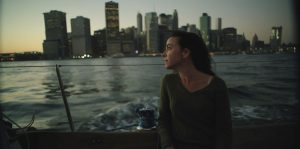 GREENPOINT FILM FESTIVAL REVIEW! What happens when a married couple decides it's time to split up? Before/During/After displays the awkward realities and difficulties of the separation process. After Jennie (Finnerty Steeves) finds out that her husband, David (Jeremy Davidson), has been cheating on her, she determines that some things need to change. As they struggle to save what is left of their relationship, every bit of Jennie is tested. Her psyche comes into question, and the love she has for herself starts to dwindle, but, with a glimmer of hope, she has the chance to get her life back in order. Will Jennie find a way to get back on track, or will her husband's unfaithfulness result in her world crumbling?
Romantic comedies have gotten monotonous and repetitive. There are hundreds of films depicting the oddities of meeting someone new, falling in love, fighting, and ultimately ending up together. These films are old and played out. That is why Before/During/After, directed by Stephen Kunken and Jack Lewars, is a breath of fresh air. While similar movies exist, this comedic drama explores the opposing side of those cheesy rom-coms. Even though the content is heavy, it is enjoyable because it's real. The honesty depicted in the film lures audiences who have experienced any hardship in their lives. The rawness of emotion on display makes some of the scenes hard to watch, as they portray individuals in an incredibly vulnerable state. But they also let the viewer realistically connect to the leads.
Such relatability is only possible because of Steeves' impeccable acting. Jennie's an actor looking for work, despite being known (to some) around New York City for her immense talent. Steeves is a reflection of her character and portrays the more emotionally charged scenes with grace and precision. While the story is what attracts audiences, it is her close to perfect performance that makes them stay.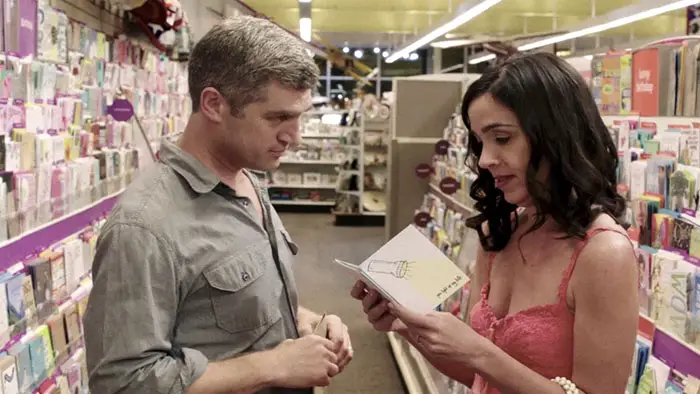 "As they struggle to save what is left of their relationship, every bit of Jennie is tested."
Even with her precision, the first half of Before/During/After has its issues. As audiences make their way through Jennie and David's story, the beginning of the film, while full of promise (that is eventually delivered), is a bit dull. The understanding of what is to come later attracts audiences, and Steeves is still able to deliver, but the first 30 minutes, or so, are quite boring and uncomfortably awkward when it did not need to be. Fortunately, Steeves, who also wrote Before/During/After, and the co-directors turn the film's direction around by the second half and create a wonderfully brilliant finished product. 
Before/During/After is awkward, emotional, quirky, and raw. It depicts scenarios that often make the audience uncomfortable, and it twists the mundane chick-flick on its head, paving a road toward success. Steeves is fantastic as she connects with the audience through both her writing and acting. She captures emotion in ways that Hollywood often does not. She shows that independent films are often given more leeway than some of the major blockbusters that the world has gotten used to, opening doors for brilliance and success in ways that audiences have not seen before.
Before/During/After screened at the 2020 Greenpoint Film Festival.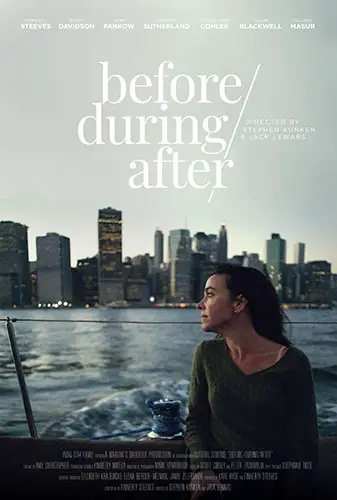 "…...awkward, emotional, quirky, and raw."