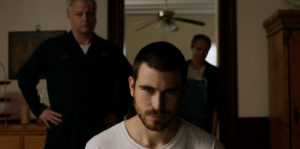 In Jason Abrams' indie thriller, Hungry Dog Blues, a son is pushed to his physical, emotional, and moral limits to clear his father's name. Our story opens with Charlie (Jason Abrams) sitting at his father's bedside, Frank, who lies in a coma after a botched suicide. The last words of Charlie's father come from a voicemail telling him that all the family's money was stolen by Ronnie (Amy Hargreaves) at the behest of her boss, Walker (William Roth).
With step-brother Terrance (C.J. Wilson) in tow, the logical first step is going to Ronnie's home. Of course, Ronnie has not been there in years, but living in her home is Ronnie's estranged…and very pregnant daughter, Tina (Irina Gorovaia). After an intense standoff, Tina decides to help the brothers track down her mother.
After subduing Ronnie, Charlie initiates a ruse to trick her into revealing Walker's location by threatening Tina's life. The scheme almost works, but Ronnie sees right through them and offers to clear Frank's name if Charlie kills Walker.
Indie thrillers are hard to pull off because Hollywood throws so much money at its productions that it can afford much more elaborate and violent tales. Writer/director Jason Abrams may not quite hit Big Hollywood levels with Hungry Dog Blues, but he elevates his film in quality, making good use of guerilla film techniques.
First, Abrams chooses to place a great deal of attention on character. Charlie is a son trying to clear his father's name without knowing exactly what trouble his father has gotten himself into. His wits are challenged, and Charlie is pushed to the limits by a father who is not 100% honest with him.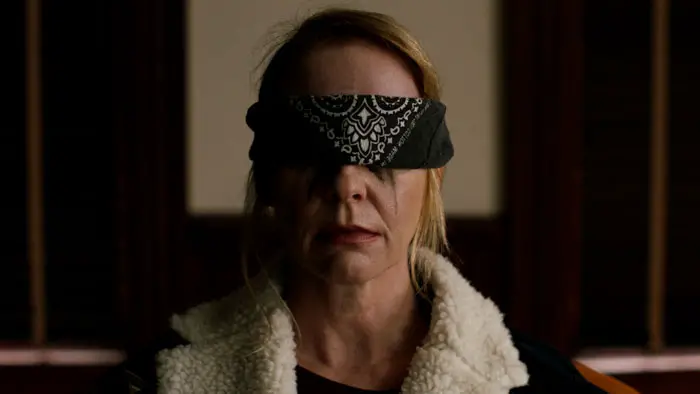 "…all the family's money was stolen by Ronnie at the behest of her boss, Walker…"
Tina is equally unsure about her mother, Ronnie. Wanting to distance herself from her mother and her mirky dealings, Tina is now forced to come face-to-face with her. Let's say being eight months pregnant also has its own set of challenges.
We now have well-grounded and authentic characters, and Abrams places them in life-threatening situations. Yes, there is fighting, gun plays, and copious amounts of blood. Still, in the midst of the danger, Abrams understands again the physical limits of his character and never places them in a situation where they need to be super-human.
The third slice of this thrillery pie is Amy Hargreaves' performance as Ronnie. Two-faced is the best way to describe her character; both faces are unforgettable. She's the perfect counter to Charlie and Tina's naive characters. Her presence made me wonder why Charlie would just give up and run. Constantly questioning Charlie's decisions to keep moving forward only makes for genuinely engaging storytelling.
Indie thrillers don't have the advantages that the big studios have in high-priced A-List stars, elaborate stunts, and expensive set locations. But at its foundation, Hungry Dog Blues has a story that could rival Hollywood by keeping it simple and focus in on constantly putting its characters in peril. Instead, it's further proof that Hollywood doesn't own the genre.
For screening information, visit the Hungry Dog Blues Facebook page.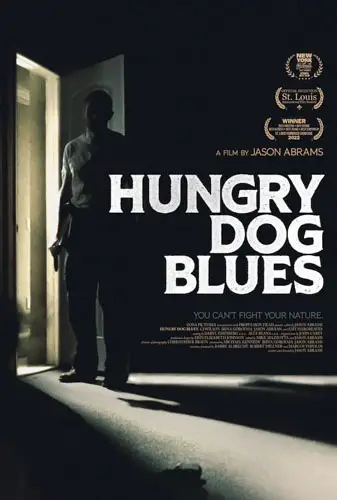 "…constantly putting its characters in peril."