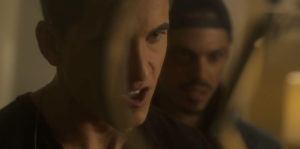 NOW ON TUBI! Get ready to play rough with writer/director Barry Jay's muscular suspense film The Way Out. Alex Romero (Jonny Beauchamp) is an alcoholic songwriter who tried to kill himself while drunk. A year of sobriety later, Alex is attending AA meetings and trying to make ends meet by delivering pizzas. His artist girlfriend Gracie (Ashleigh Murray) is preparing for a big gallery show.
When Alex goes to visit his estranged father to see about patching things up, he finds his dead body with a bloody baseball bat nearby. Alex is still in shock when Detective Cole (Alison Robertson) interviews him. During questioning, Alex gets very secretive as to what he and his dad had to work out. Alex inherits his dad's house and advertises for a roommate to cover costs. Shane Collins (Mike Manning) answers the ad, and Alex is instantly attracted to him. Shane says he is a personal trainer and pays a large wad of cash upfront.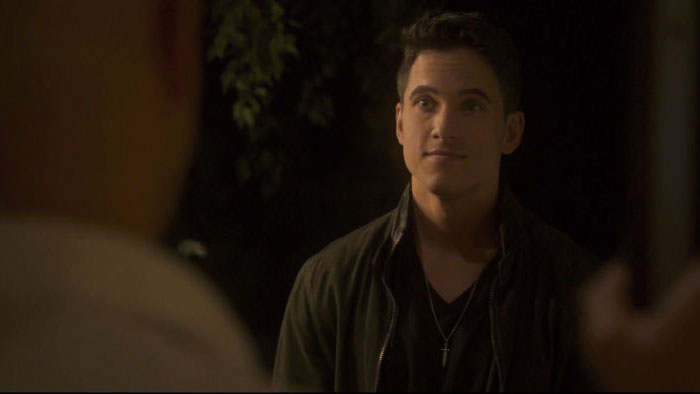 "Shane Collins answers the ad, and Alex is instantly attracted to him."
Alex goes out of his way not to tell Shane his dad was murdered in the house he's moving into. Gracie isn't crazy about Shane, particularly since she sees how much he drives Alex wild. It turns out she is right, as Shane is soon showing Alex some new sexual tricks at the sadomasochistic end of the pool. He also helps Alex explore his anger, summoning even more aggression. Alex's AA sponsor, Veronica (Sherry Shepherd), is concerned about Shane's influence on Alex, as is Gracie. Soon we find out how Shane really makes his money and what kind of midnight path he is teaching Alex to walk.
With The Way Out, Jay hits that rare target where the suspense is both jet black and white hot. The audience is put through the same waves of fear and arousal that Shane puts Alex through. Alex's struggle to not get wasted garners sympathy while adding dramatic engagement, as he risks falling apart constantly. The suspense factors play holy hell with this delicacy of his existence. This level of intensity is maintained throughout. Jay is able to achieve a tone where he goes extreme thematically while using tasteful restraint graphically. It's not what you will see that will chill you; it is what you will feel.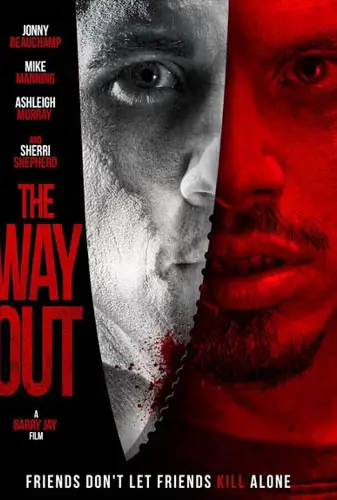 "…bitter and strong, like robust coffee..."