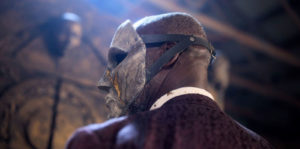 Your preconceptions are about to be body-slammed by the high-voltage Canadian horror comedy Here For Blood by director Daniel Turres. It was written by James Roberts and shot in London, Ontario. The movie opens with a horrific scene featuring carnage courtesy of Loverboy (Channing Decker), a musclebound masked psychopath in black leather.
We then meet Phoebe (Joelle Farrow), who is broke and is babysitting a 10-year-old girl that night. However, she is getting her degree and needs to study for tomorrow's big test, so she asks her friends Christine (Samantha Helt) and Mike (Kelly Penner) what she can do. They say, how about getting her boyfriend Tom (Shawn Roberts), an equally broke amateur wrestler, to fill in and watch little Grace (Maya Misaljevic) that night?
"Gathered in the barn with him are a cult of menacing figures in masks and leather…"
After Phoebe makes the change, Tom is worried that male babysitters will be seen as potentially creepy. This is exactly what crosses the mind of Grace's step-dad Gill (Michael Therriault) when huge, hulking Tom shows up. Mom Barb (Tara Spencer-Nairn) takes the last-minute change in stride, leaving freshly baked cookies and pizza money while she and Gill are out. Little Grace puts Tom to work playing video ages with her while they wait for that double cheese pizza. Turns out the pizza boy (Steven Love) has seen Tom wrestle many times and is a fan. On the way out, Pizza Boy hears a commotion in the barn and investigates. Inside the barn is Loverboy, who cuts the pizza boy into slices.
Gathered in the barn with him are a cult of menacing figures in masks and leather, including Meat (Marc-Andre Boullanger), Slackjaw (Jimmy Limb), and their sinister leader, The Jackal (Glen Michael Grant). Tom hears some noises and comes down to the kitchen to find masked Bernie (Jesse Buck) ready to cut him into ribbons. Meanwhile, Spinhead (Marqus Bobesich), a leather-clad lurker with an upside-down face mask, is creeping up behind little Grace.
Wrestlers have a long and proud history spanning decades of performing in sensational cinema. However, it is seldom that their onscreen characters are actually wrestlers themselves. There is no hiding it; the opening credits unroll over one of Tom's wrestling matches, with the 1993 tune "When the Whip Comes Down" by Slash Puppet rocking in the background.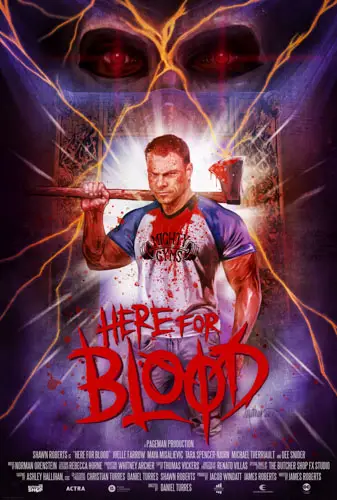 "…a thundering generator of cinematic fun..."